Thirty Seconds to Mars built secret studio to avoid hackers
Bang Showbiz
6 April 2018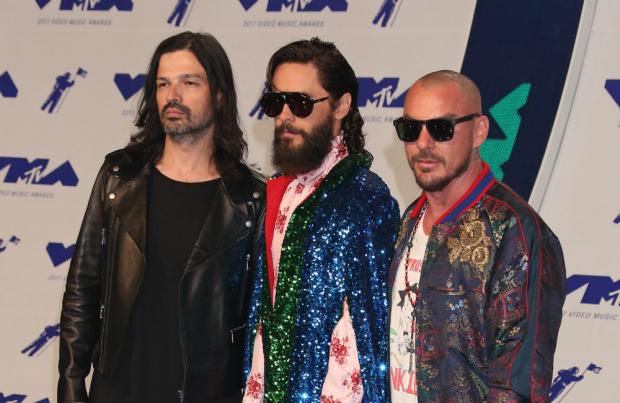 American rock group Thirty Seconds to Mars have revealed that they built a secret studio to avoid hackers
Thirty Seconds to Mars built a secret studio to avoid hackers.
The American rock band - which features Jared Leto, Shannon Leto and Tomo Milicevic - have returned to the music scene with the release of their new album 'America', and Jared has revealed how the band have ensured that their music hasn't leaked.
He said: "We call it The International Centre for the Advancement of the Arts and Sciences of Sound. It's like Fight Club, the first rule is we never talk about it."
Despite being a big advocate of technology, Jared also worries about the potential impact of Artificial Intelligence.
He explained, according to the Daily Star newspaper: "I think it's inevitable that we are going to build technology that will be in some sense smarter than us.
"There are are dangers, technology can replace the human heart, it can also bring about great despair and tragedy."
The new album is the band's first since the suicide of former Linkin Park star Chester Bennington, who died in July last year.
And Jared - who toured alongside the rocker in 2014 - remains grateful for Chester's help during his own career.
He shared: "He was a friend, peer, a colleague and an artist who offered us an incredible opportunity with Linkin Park.
"He represents an important chapter in our lives, we spent 20 days together touring, I have so many great memories."
Meanwhile, Jared recently revealed that the band's new album has been inspired fear.
Asked what inspired their latest record, he explained: "Fear. Failure. Hope. Dreams. Love.
"Writing an album over the course of five years, you experience all kinds of different things. Whether it's a song like 'Walk on Water', which speaks to the times we're living in; a song about change and standing up for what you believe in.
"Or 'Dangerous Night', a song about a relationship. Five years is a good amount of time to think about quite a wide variety of topics, which is what's nice about taking a long time to make an album."