Janelle Monae's album features Brian Wilson and Pharrell
Bang Showbiz
25 April 2018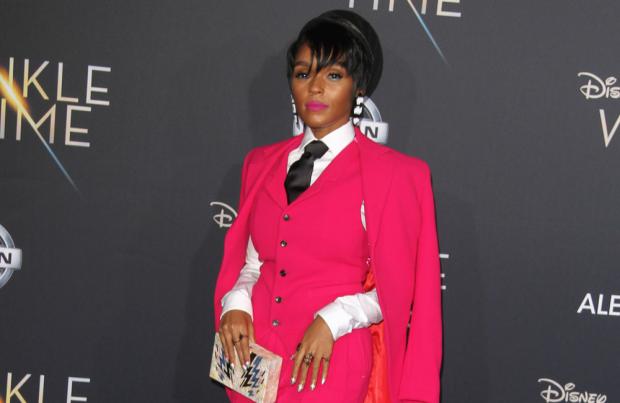 Brian Wilson, Pharrell Williams and Zoe Kravitz feature on Janelle Monae's new album '
Janelle Monae's new album features The Beach Boys' Brian Wilson.
The 32-year-old singer-and-actress unveiled the full track-listing for her third studio album 'Dirty Computer' last night (24.04.18) through an interactive website, which requires fans to type in the words "I'm a dirty computer" to access the titles, and it revealed that the opening song, which is the same name as the album, features the 'Good Vibrations' hitmaker.
Pharrell Williams appears on'I Got The Juice' and Lenny Kravitz's daughter Zoe on 'Screwed'.
Sharing a link to the "tracklist experience", she tweeted: "Repeat after me, "I am a Dirty Computer." - then click the following link to enter the #DirtyComputer tracklist reveal experience... (sic)"
Janelle previously released 'Make Me Feel', which resembles Prince's hit song 'Kiss', 'PYNK' featuring Grimes and 'Django Jane' from the LP.
The late 'Purple Rain' hitmaker's influence is because he actually worked on the record, acting as a mentor to Janelle before his death in April 2016.
Janelle previously revealed she and Prince - who previously featured on her last LP 'The Electric Lady' - had been "collecting sounds" ahead of his untimely passing, which is why his presence is so strong on the collection of songs.
She said: "It's difficult for me to even speak about this because Prince was helping me with the album, before he passed on to another frequency. [His death was] a stab in the stomach. The last time I saw him was New Year's Day. I performed a private party in St Bart's with him, and after we sat and just talked for five hours. He was one of the people I would talk to about things, him and Stevie Wonder."
Janelle met Prince after she sent her debut LP 'The ArchAndroid' to the music icon and Stevie Wonder before it was released in 2010, along with a handwritten tracklist, to get their opinion on her music.
'Dirty Computer' is released on April 27.
The tracklisting for 'Dirty Computer' is as follows:
1. 'Dirty Computer' [ft. Brian Wilson]
2. 'Crazy, Classic, Life'
2. 'Take a Byte'
4.'Jane's Dream'
5. 'Screwed' [ft. Zoë Kravitz]
6. 'Django Jane'
7. 'PYNK' [ft. Grimes]
8. 'Make Me Feel'
9. 'I Got the Juice' [ft. Pharrell Williams]
10. 'I Like That'
11. 'Stevie's Dream'
12. 'Don't Judge Me'
13. 'So Afraid'
14. 'Americans'