Britain's Got Talent winner Lost Voice Guy announces huge UK tour, tickets on sale now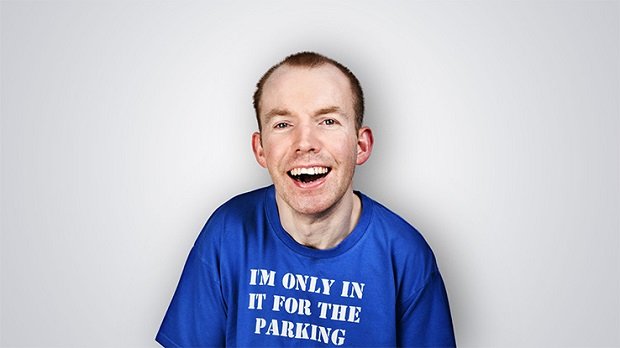 Unique comedy talent performing across UK next spring.
Geordie comedian Lost Voice Guy (Lee Ridley) won over audiences across the UK with his unique stand up routine and took the title as this year's Britain's Got Talent winner. Ridley is taking his show on tour early 2019, with tickets available now.
Lost Voice Guy is known for his one of a kind stand up routine in which his speech synthesiser delivers sharp jokes covering everything from his disability to popular culture, providing major belly laughs and 'oh no he didn't!' moments.
After his debut in 2012 Lee has gone on to win the BBC New Comedy Award and appeared on a host of TV and radio shows such as The One Show, BBC at the Edinburgh Festival and Voice of the People.
Lost Voice Guy recently had his hit BBC Radio 4 series Ability, co-written by Lee with Katherine Jakeways, renewed for a second season.
The huge string of UK shows kicks off on Sat 9 Feb at the Civic in Barnsley and ends on Wed 17 Apr at Brighton Komedia.
Lost Voice Guy UK tour dates Spring 2019:
Sat 2 Feb – Civic, Barnsley
Wed 6 Feb – Norwich Playhouse, Norwich
Thu 7 Feb – Colchester Arts Centre, Colchester
Fri 8 Feb – Palace Theatre, Southend on Sea
Sat 9 Feb – The Deco, Northampton
Thu 14 Feb – Memorial Court, Northwich
Fri 15 Feb – The Lowry (Quays), Salford
Sat 16 Feb – Middleton Hall, Uni of Hull, Hull
Sun 17 Feb – Tyne Theatre, Newcastle upon Tyne
Wed 20 Feb – Glee, Cardiff
Thu 21 Feb – Ffwrnes Llanelli, Wales
Fri 22 Feb – Aberystwyth Arts Centre, Aberystwyth
Sat 23 Feb – Sue Townsend Theatre, Leicester
Sat 2 Mar – Leadmill, Sheffield
Sun 3 Mar – Little Theatre, Chorley
Mon 4 Mar – Glee, Birmingham
Wed 6 Mar – Theatre Royal, Wakefield
Fri 8 Mar – William Astor Hall, Wrexham
Sat 9 Mar – The Theatre, Chipping Norton
Sun 10 Mar – Tobacco Factory, Bristol
Mon 11 Mar – Wyvern Theatre, Swindon
Wed 13 Mar – Corn Exchange, Exeter
Fri 15 Mar – Playhouse, Nottingham
Sat 16 Mar – Broadway, Peterborough
Mon 18 Mar – Cheltenham Town Hall, Cheltenham
Weds 20 Mar – Theatre Royal, Lincoln
Fri 22 Mar – Camberley Theatre,Camberley
Sat 23 Mar – The Stables, Milton Keynes
Sun 24 Mar – Harlow Playhouse, Harlow
Mon 25 Mar – Quarry House Theatre, Bedford
Wed 27 Mar – Grove Theatre, Dunstable
Mon 1 Apr – Rotunda, Glasgow
Tue 2 Apr – Eden Court Theatre, Inverness
Fri 5 Apr – Arc, Stockton on Tees
Sat 6 Apr – Carnegie Theatre, Cumbria
Tues 16 Apr – Komedia, Brighton
Weds 17 Apr – Komedia, Brighton
Tickets for Lost Voice Guy are on sale now.