A posthumous Avicii track featuring Chris Martin is being mixed
Bang Showbiz
7 August 2018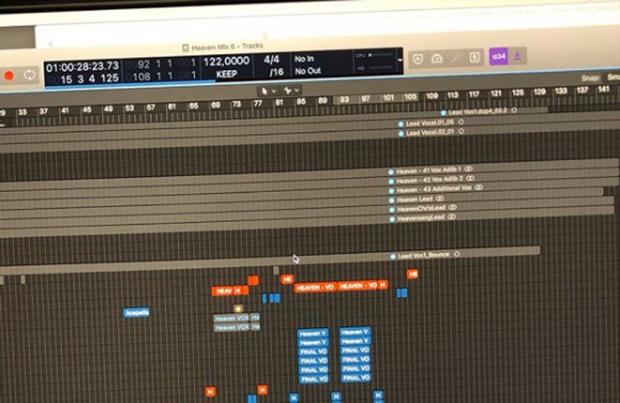 A collaboration between the late DJ Avicii and Coldplay's Chris Martin looks to be released posthumously along with a bunch of other tracks the late DJ left behind
A posthumous Avicii track featuring Chris Martin called 'Heaven' looks set to be released.
The Swedish-born DJ - whose real name is Tim Bergling - was tragically found dead in his hotel room in Muscat, Oman, on April 20, at the age of just 28.
His long-time collaborator, Carl Falk, revealed on Monday (06.07.18) that he's working on a number of unreleased songs by the 'Wake Me Up' hitmaker, including one with the Coldplay frontman.
The mixing process has been "emotional" for the studio wizard, who misses having his late pal with him "doubting ever little detail" of his work.
Alongside a picture of the mix on his computer, Carl wrote on Instagram: "Yesterday was a strange and emotional day in many ways trying to finishing these songs. It's not the same producing without you by my side. I miss you hanging over my shoulder doubting every little thing and detail in the song. #avicii #heaven (sic)"
Swedish site Aftonbladet previously reported that the EDM star left behind nearly 200 tracks when he passed away.
According to a source, Avicii's family met with the star's record label, Geffen Records, to discuss the possibility of releasing a record of unreleased material.
Commenting on the songs, Geffen manager Neil Jacobs said: "It was honestly Avicii's best music for many years."
If an album is released, it will be the first since 2015's 'Stories'.
Following the 'Hey Brother' hitmaker's death, the Oman police department found "no criminal suspicion" relating to Avicii's death and two post-mortem examinations were conducted, with authorities ruling out foul play.
At the end of April, his family released a statement which seemingly confirmed the star had taken his own life.
It read: "Stockholm, 26 April 2018
"Our beloved Tim was a seeker, a fragile artistic soul searching for answers to existential questions. An over-achieving perfectionist who travelled and worked hard at a pace that led to extreme stress.
"When he stopped touring, he wanted to find a balance in life to be happy and be able to do what he loved most - music.
"He really struggled with thoughts about Meaning, Life, Happiness.
"He could not go on any longer. He wanted to find peace.
"Tim was not made for the business machine he found himself in; he was a sensitive guy who loved his fans but shunned the spotlight.
"Tim, you will forever be loved and sadly missed. The person you were and your music will keep your memory alive.
"We love you, Your family [sic]"
Avicii retired from performing in 2016 citing health issues as his reason for calling time on his shows.
He had been battling with acute pancreatitis - which is a potentially life-threatening inflammation of the pancreas - due in part to excessive alcohol consumption, and had his gallbladder and appendix removed in 2014.