Razorlight release four new tracks and announce UK tour for 2018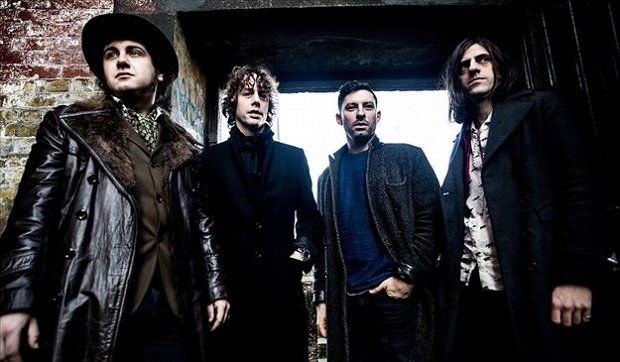 Latest album Olympus Sleeping will be supported with a series of live shows
Razorlight have released four new tracks and revealed news of their new album Olympus Sleeping. To support the new material the indie rockers will take to the road for a 12-date tour in Dec 2018. Tickets for the shows are available at 10am on Fri 31 Aug.
A decade since their last album the English indie band are back at it. Fronted by lead singer and guitarist Johnny Borrell, the current lineup of the band consists of drummer David Sullivan Kaplan, guitarist Gus Robertson, and bassist João Mello. Razorlight had a string of notable hits in the mid 00s including 'In The Morning', 'America' and 'Somewhere Else'.
The band have released four new tracks – 'Olympus Sleeping', 'Japanrock', 'Sorry?' and 'Got To Let The Good Times Back Into Your Life' – ahead of the their latest record. This will be Razorlight's fourth studio album and is due for release on Fri Oct 26. The band will take the new material to the road this Dec with a string of shows kicking off on Tue 4 Dec at The Old Fruitmarket in Glasgow and finishing on Wed 18 Dec at The Junction in Cambridge.
The Olympus Sleeping Tour dates 2018:
Tue 4 Dec – The Old Fruitmarket, Glasgow
Wed 5 Dec – O2 Academy, Sheffield
Thu 6 Dec – O2 Academy, Liverpool
Sat 8 Dec – SWX, Bristol
Mon 10 Dec – O2 Institute, Birmingham
Tue 11 Dec – Concorde 2, Brighton
Thu 13 Dec – Rock City, Nottingham
Fri 14 Dec – O2 Forum, London
Sun 16 Dec - O2 Ritz,Manchester,
Mon 17 Dec – O2 Academy, Newcastle
Tue 18 Dec – O2 Academy, Leeds
Wed 19 Dec – The Junction, Cambridge
Tickets for the Olympus Sleeping tour are available at 10am on Fri 31 Aug.