Hit musical Annie coming to the Edinburgh Playhouse autumn 2019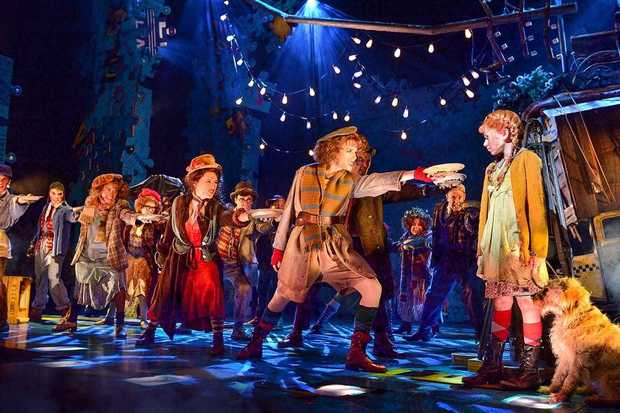 New dates added to the huge UK tour
Hit musical Annie is to tour the UK in 2019 and dates at Edinburgh Playhouse have just been announced. Annie will run at the venue from Mon Sep 30–Sat 5 Oct 2019 and tickets are on sale now.
The production, put together by Michael Harrison and David Ian's enjoyed an extended run on London's West End following a 2015/16 tour of the UK. The show, which has been on stage for a staggering 43 years, continues to sell out venues times after time.
The tale is set in 1930s New York during the great depression and tells the story of iconic character Annie who lives in an orphanage run by the spiteful Miss Hannigan, who's previously been played by the likes of Miranda Hart, Craig Revel Horwood and Meera Syal.
With memorable songs like 'It's the Hard Knock Life', 'Easy Street', 'I Don't Need Anything But You' and 'Tomorrow', it's a must-see musical for all the family.
The full tour will start at Manchester Opera House on Sat 2 Feb. It visits 18 cities along the way and as well as calling at Edinburgh Playhouse, the musical will run at Glasgow's Kings Theatre from Mon 15–Sat 20 Apr 2019.
Annie UK tour dates 2019:
Sat 2-Sat 16 Feb – Opera House, Manchester
Tue 19-Sat 23 Feb – Grand Theatre, Wolverhampton
Mon 4-Sat 9 Mar – New Theatre, Oxford
Mon 18-Sat 23 Mar – Hippodrome, Bristol
Mon 25-Sat 30 Mar – Storyhouse Theatre, Chester
Mon 1-Sat 6 Apr – New Theatre, Hull
Mon 15-Sat 20 Apr – King's Theatre, Glasgow
Mon 22-Sat 27 Apr – Alhambra, Bradford
Tue 30 Apr-Sat 4 May – Mayflower Theatre, Southampton
Mon 13-Sat 18 May – Venue Cymru, Llandudno
Mon 20-Sat 25 May – Theatre Royal, Nottingham
Mon 27 May-Sat 1 Jun – Cliffs Pavilion, Southend
Mon 10-Sat 15 Jun – New Victoria Theatre, Woking
Mon 17-Sat 22 Jun – Orchard Theatre, Dartford
Mon 24-Sat 29 Jun – Empire Theatre, Liverpool
Mon 1-Sat 6 Jul – Milton Keynes Theatre
Mon 30 Sep - Sat 5 Oct – Edinburgh Playhouse
Annie will run at Edinburgh Playhouse from Mon Sep 30–Sat 5 Oct 2019 and tickets are on sale now.