Kylie Minogue and Jason Donovan reunite on stage
Bang Showbiz
10 September 2018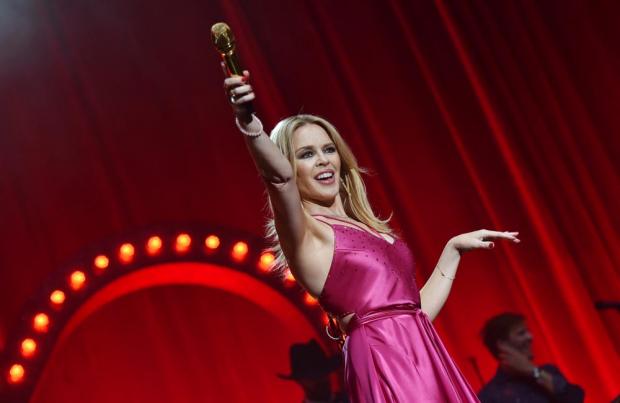 Kylie Minogue brought Jason Donovan on stage during her performance of 'Especially For You' at Radio 2 Live in Hyde Park on Sunday (09.09.18) and later duetted with Rick Astley
Kylie Minogue and Jason Donovan reunited on stage on Sunday (09.09.18).
The 'Wow' hitmaker was midway through her set at Radio 2 Live in Hyde Park when she began singing their 1988 duet 'Especially For You' with a choir, but after the second chorus, she delighted the London audience by saying she was in need of a "dance partner" - prompting her former boyfriend to walk out on stage.
Jason took Kylie in his arms and they swayed back and forth before he joined her on the mic for the song's finale.
Kylie laughed afterwards: "He didn't know that was going to happen."
And after leaving the stage, Jason, 50, confirmed the moment hadn't been planned but he had "loved every second".
He said: "I literally turned up on my bike to support my friend @kylieminogue and next thing you know I'm onstage @BBCRadio2 Hyde Park in front of 70,000 people recreating those dance moves Especially For You 1988 .. mad! Loved every second. Thank you for all your support. Memories = magic (sic)"
And Jason wasn't the only surprise guest of the evening as shortly afterwards, Rick Astley joined Kylie on stage to sing his 1987 single 'Never Gonna Give You Up'.
After the song finished, the 50-year-old singer told her guest: "I don't want to give you up or let you go."
Rick then took on Robbie Williams' vocals from his and Kylie's 2000 duet 'Kids'.
Kylie's set spanned her entire career, from an acoustic version of her debut single 'I Should Be So Lucky' right up to tracks from her latest record 'Golden'.
And when a technical hitch meant she had to fill in some time, Kylie delighted the crowd with snatched a capella versions of 'Got To Be Certain', 'Step Back In Time' and 'Je Ne Sais Pas Pourquoi', before getting back on track with 'In Your Eyes'.
Other artists who performed at the 'Festival in a day' in Hyde Park included Lenny Kravitz, Rita Ora, Manic Street Preachers, Boyzone and All Saints.