Marillion to tour the UK with orchestra in 2019, tickets on sale now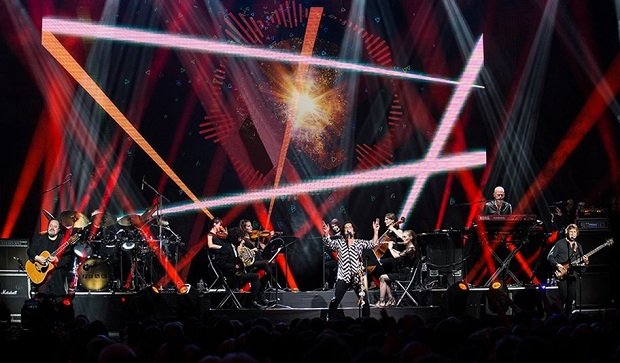 Band will be joined by the In Praise Of Folly String Quartet for an orchestral celebration of their extensive discography
Last week Marillion announced they will tour the UK with new show Marillion with friends from the Orchestra next November. For the specially crafted show the prog rockers will take to the stage with the In Praise Of Folly String Quartet, along with French Horn player Sam Morris and Emma Halnan on flute. Tickets for the shows are on sale now.
Since vocalist Steve Hogarth joined the band in 1989 Marillion have released 14 studio albums, the most recent of which came out in 2016. The 2019 orchestral tour will feature songs spanning the group's extensive discography to celebrate the 30th anniversary of Hogarth's introduction to the band. Fans can expect to hear a collection of classic hits including 'Seasons End', 'The Great Escape', 'Out of This World', 'Man of a Thousand Face' and more.
Speaking of the tour vocalist Steve Hogarth said: 'We've added this wonderful six-piece to the band for the entire tour. They're brilliant players, good friends, and the chemistry we have together has already spoken for itself.'
The Marillion with friends from The Orchestra tour kicks off on Fri 1 Nov at the Philharmonic Hall in Liverpool. Further dates will go ahead in Nottingham, Manchester, Birmingham, Bath, Glasgow and more before the group finish up with two nights back to back at the Royal Albert Hall in London on Mon 18 and Tue 19 Nov.
Marillion with friends from The Orchestra tour dates 2019:
Fri 1 Nov – Philharmonic Hall, Liverpool
Sun 3 Nov – Royal Concert Hall, Nottingham
Mon 4 Nov – The Bridgewater Hall, Manchester
Wed 6 Nov – Symphony Hall, Birmingham
Thu 7 Nov – Guildhall, Portsmouth
Sat 9 Nov – Bath Forum
Sun 10 Nov – New Theatre, Oxford
Tue 12 Nov – Royal Concert Hall, Glasgow
Fri 15 Nov – Cliffs Pavilion, Southend
Sat 16 Nov – St David Hall, Cardiff
Mon 18 Nov – Royal Albert Hall, London
Tue 19 Nov – Royal Albert Hall, London
Tickets for Marillion with friends from The Orchestra are available now.