Think different: six alternative ways to enjoy this Christmas in Glasgow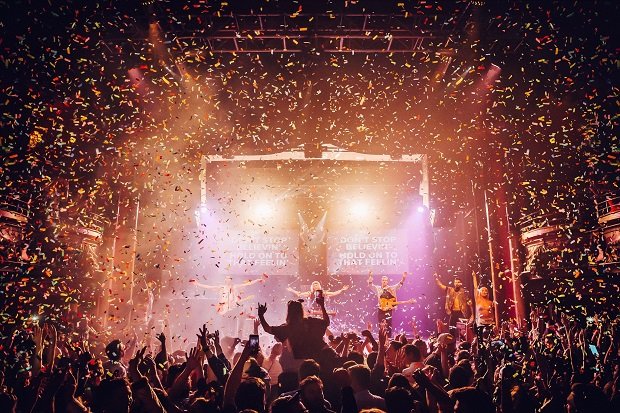 Forget shopping and panto, it's not that kind of list
As the high streets of Glasgow become flooded with festive lights and late night shoppers it is truly time to get into the spirit of things. For those scratching their head wondering what festive things to do in the city this Christmas we've selected seven less obvious festive events to be enjoyed this yuletide season. Forget shopping and panto, it's not that kind of list.
Slade
Glam rockers from the 70s swing by to play hits from their back catalogue with a few festive favourite thrown in. Can you believe it's been 45 years since Noddy Holder wished us all a Merry Christmas?
SWG3, Thu 6 Dec. Book tickets.
Frozen Prosecco Snowball
When it burst onto the scene in 2013 the Disney box office smash Frozen didn't just captivate kids, it had the onlooking parents hooked too. So many sing-a-long and themed events have come off the back of the film it is surely not a guilty but instead a guilt-free pleasure. SWG3 will be transformed into a snow laced Winter Wonderland inspired by Frozen. Expect to dance, sing, laugh and drink lots of prosecco.
SWG3, Fri 28 Dec. Book tickets.
Stella's Christmas Cabaret Cracker
Complete with feel-good Christmas numbers that will get you into the spirit, this annual cabaret is going to be a selection box of Christmas classics with all profits going to The Brain Tumour Charity.
Oran Mor, Fri 14 Dec. Book tickets.
Mammy Goose
We couldn't get through the list without including some panto but at least with this entry there is a twist. Johnny McKnight's panto version of Mother Goose shuns tradition and promises to be a rip-rollicking show with plenty of laughs.
Tron Theatre, Tue 27 Nov-Sun 6 Jan. Book tickets.
Xmassaoke: Massaoke's Christmas Singalong
Dive into the festive season with a MASSive Christmas sing-a-long. Massaoke's live band play holiday hits including Wham!, Slade, Wizzard and many more.
St Lukes, Sat 22 Dec. Book tickets.
The Prog Before Christmas
An prof rock extravaganza with a five-band bill featuring musicians Glen Brielle, Halo Tora, Grand Tour, Abel Ganz. Headlining the day are UK Prog award nominees Galahad. All proceeds go to Maggie's charity.
Drygate, Sat 15 Dec. Book tickets.
Immersive Xmas Cinema: Home Alone!
A fully immersive experience that replicates every fine detail from this Christmas classic. Expect a full sensory cinema experience where you're able to watch, touch, taste and smell Kevin's world.
SWG3, Fri 7 Dec. Book tickets.