Squeeze to head out on huge UK tour in 2019, tickets on sale now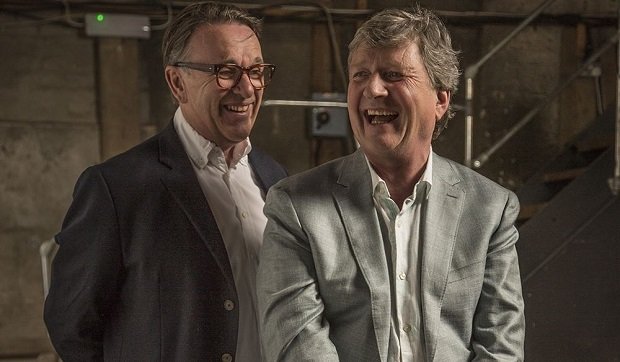 New Wave pioneers enjoy revival with The Difford and Tilbrook Songbook tour
Squeeze have announced they will take their new tour The Difford and Tilbrook Songbook on the road in 2019. The South London legends head out to 24 cities next year to perform their extensive catalogue of hits, as well as some rare and lesser known gems. Tickets for the tour are on sale now.
The rock band rose to prominence in the late 1970s with hits like 'Cool for Cats', 'Up the Junction', 'Another Nail in My Heart' and 'Pulling Mussels From A Shell'. Following a 17-year studio hiatus, the group put out two hugely successful albums Cradle to the Grace in 2015 and The Knowledge in 2017 – proving the lads have still got it.
Commenting on next year's tour, lead singer and guitarist Glenn Tilbrook said: 'We've had something of a renaissance in the last few years, and look forward to this continuing, as we will play a set of songs that are both new, contemporary and as innovative as people have come to expect from us, along with the old beauties.'
Heaven 17 will support the group on the tour which starts on Thu 17 Oct at Baths Hall in Scunthorpe. The tour calls at a host of cities around the UK throughout October and November including Glasgow, Birmingham, Oxford, London, Manchester and more. The final show of the tour goes ahead on Wed 20 Nov at Regent Theatre in Ipswich.
Squeeze 2019 tour dates:
Thu 17 Oct - Baths Hall, Scunthorpe
Fri 18 Oct - Sheffield City Hall
Sat 19 Oct - Sage, Gateshead
Mon 21 Oct - Royal Concert Hall, Glasgow
Tue 22 Oct - De Montfort Hall, Leicester
Wed 23 Oct - Birmingham Symphony Hall
Fri 25 Oct - New Theatre, Oxford
Sat 26 Oct - Brighton Centre
Sun 27 Oct - Southend Cliffs Pavilion
Tue 29 Oct - Royal Albert Hall, London
Wed 30 Oct - Bath Forum
Fri 1 Nov - Hull City Hall
Sat 2 Nov - Liverpool Philharmonic
Sun 3 Nov - The Lowry, Manchester
Tue 5 Nov - Derngate, Northampton
Wed 6 Nov - G Live, Guildford
Sat 9 Nov - Royal Concert Hall, Nottingham
Mon 11 Nov - Pavilion, Bournemouth
Tue 12 Nov - Cambridge Corn Exchange
Wed 13 Nov - St Davids Hall, Cardiff
Fri 15 Nov - Venue Cymru, LLandudno
Sat 16 Nov - Harrogate Convention Centre
Sun 17 Nov - Hexagon, Reading
Tue 19 Nov - Leas Cliff Hall, Folkestone
Wed 20 Nov - Regent Theatre, Ipswich
Tickets for Squeeze's 2019 tour are on sale now.