FriendsFest hits Manchester, Milton Keynes, Bristol and London, tickets on sale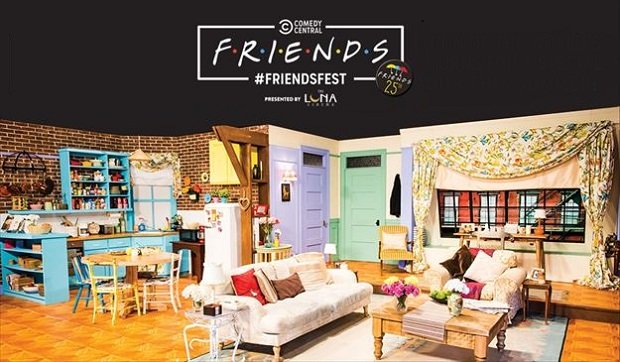 Comedy Central and Luna Cinema pair up for the ultimate Friends appreciation event
It's been 25 years since Friends aired and today it remains as popular as ever. Amidst constant reruns and a game changing placement of the full ten seasons on Netflix, the Comedy Central team found a new way to bring fond memories of Joey, Chandler, Rachel, Ross and Phoebe to fans and they've called it FriendsFest.
More like an interactive expo than your typical festival, this event allows you to step behind the camera and get on set in the iconic apartments, cafes and parks that hosted the show for 236 episodes.
Comedy Central crafted FriendsFest a few years back and due to its success have teamed up with immersive cinema giants The Luna Cinema to take the show on the road once again. To celebrate the show's 25th anniversary the expo style event will hit up venues in Manchester, Milton Keynes, Bristol and London throughout August and September.
FriendsFest features life-size sets and experiences perfect for photo ops. Attendees can recreate iconic moments like the infamous PIVOT!! sofa moving scene, the opening credits and can enjoy plenty of surprise experiences that have been cooked up especially for the anniversary tour.
Explore Monica's apartment, hang in the corridor or even take a walk over to Joey and Chandlers for a game of Foosball. To top off your FriendsFest experience you can grab a coffee in Central Perk but don't get your hopes up, Gunther is on vacation.
FriendsFest 2019 Tour:
Fri 2–Thu 8 Aug – Heaton Park, Manchester,
Fri 23 Aug–Sun 1 Sep – Blaise Castle Estate, Bristol
Fri 6–Sun 15 Sep – Willen Lake, Milton Keynes,
Fri 20–Sun 29 Sep – Kennington Park, London
Tickets for all FriendsFest UK dates are on sale now.