Glow Wild winter lantern festival returns for seventh year, get tickets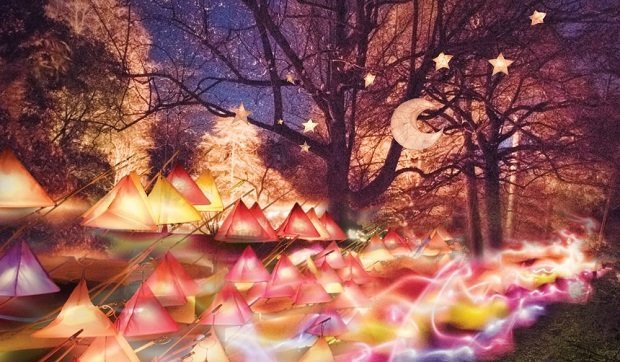 Trees, ponds and forest floors will be brought to life at Kew's Botanic Gardens in Wakehurst
The Glow Wild winter lantern festival is back for its seventh year in 2020. The annual sell-out festival will take place at Kew's Botanic Gardens at Wakehurst in Sussex from Thursdays to Sundays, running Thu 26 Nov–Wed 30 Dec 2020 with COVID-19 measures in place. Tickets for Glow Wild 2020 are on sale now.
The magical night-time experience takes place at the West Sussex estate and nature reserve that boasts over 500 acres of ornamental gardens and woodland. Attendees are invited to absorb the architectural beauty of the 16th-century mansion as it provides the perfect backdrop to this year's illuminating event. Glow Wild's huge array of light and sound installations will transform a new part of the estate into a winter wonderland like no other. Each year brings with it a new theme, and in 2020, Kew invite guests join them in a celebration of the hidden heroes of the plant and fungal world. From a grain of pollen or fungus spore to a seed on the wind, this year's festival is dedicated to them.
A staggering 33,000 plants will be illuminated making it a truly immersive experience for all the family to enjoy. This year's event is jam-packed full of returning displays as well as three new installations. Light design collective, the OGE Group, bring their award-winning Light a Wish installation to Kew. The light display features a series of delicately suspended, gently sparkling dandelion seed heads.
Wakehurst's Winter Garden will also be adorned with magical fungi-lanterns created by graphic artist and sculptor Sarah Hall-Baqai. Her fantastical fungal forms are inspired by Katie Scott's spellbinding illustrations in the book Fungarium. Elsewhere in the garden international digital design studio, The Colour Project, will cast their storytelling magic onto the giant canvas of Wakehurst's Elizabethan Mansion, revealing the secret life of fungi, and will illuminate the Pinetum with majestic barn owls swooping between trees.
Glow Wild winter lantern festival runs Thu to Sun from 26 Nov–30 Dec 2020 at Kew's Botanic Gardens at Wakehurst, West Sussex. Time slots, varying in 20-minute intervals between 4.30pm and 8.10pm, are available and advanced booking is required. Tickets are on sale now.