How much are tickets for the Hella Mega 2020 tour feat. Green Day, Weezer and Fall Out Boy?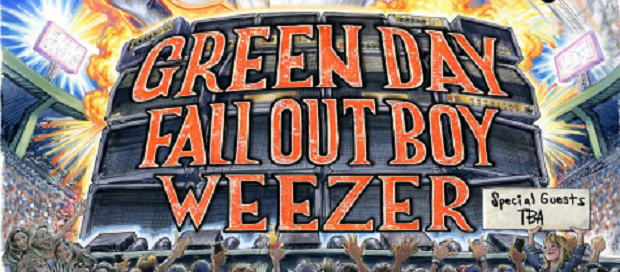 Pop-punk powerhouse tour comes to Glasgow's Bellahouston Park, Huddersfield and London next June
Green Day, Weezer and Fall Out Boy have joined forces for an epic concert series set for 2020. The quintessential punk rock bands of the 90s and 00s take to the road for the Hella Mega tour in 2020. Tickets for the shows go on sale at 10am on Fri 20 Sep.
All three bands have been teasing news of a conjoined tour for some time now. Across social media, Green Day frontman Billie Joe Armstrong has been seen sporting a Fall Out Boy t-shirt and the three bands have been trolling each other with the words 'hella mega' in Instagram comments. Today they have finally confirmed the Hella Mega tour dates and details for 2020.
Five-time Grammy Award-winning Rock and Roll Hall of Fame inductees Green Day return to music after a three-year hiatus that followed 2016 album Revolution Radio. Their forthcoming record Father of All...is set for release in 2020 ahead of the global live shows. Since their 1990 debut, they've released 12 records including their seminal album Dookie in 1994. An unstoppable force, the band toured the world year after year playing hits like 'American Idiot', 'Basket Case', 'She' and 'Welcome To Paradise' ahead of their short break.
The Hella Mega tour is mega by name and nature as multi-platinum, Grammy award-winning band Weezer join the punk rockers next year. Their breakthrough single 'Buddy Holly' celebrates its 25th anniversary this year and their latest albums Teal and Black were released in January and March. Weezer's new single 'The End of the Game' produced by Suzy Shinn, will be included on their forthcoming 14th studio album,Van Weezer, due out in May 2020.
Multi-platinum selling, Grammy-nominated band Fall Out Boy, who found fame with hits like 'Sugar, We're Goin Down' and 'Dance, Dance' in the 00s, make up the final act of the tour. Their 2018 album Mania made it to No.1 on the US Billboard charts and peaked at No.2 in the UK. Fall Out Boy's new single 'Dear Future Self (Hands Up)' ft. Wyclef Jean will be featured on their forthcoming record Greatest Hits: Believers Never Die - Volume Two which drops this November.
DF Concerts will host the Glasgow installment of the tour on Wed 24 Jun at Bellahouston Park. Following this, the bands move on to London Stadium and finish the UK stint of the tour in Huddersfield.
How much are Hella Mega tour tickets?
Glasgow £62.50
London £45–85
Huddersfield £55–85
Hella Mega tour dates 2020:
Wed 24 Jun – Bellahouston Park, Glasgow
Fri 26 Jun – London Stadium
Sat 27 Jun – John Smith's Stadium, Huddersfield
Tickets for the Hella Mega tour with Greenday, Weezer and Fall Out Boy go on sale at 10am on Fri 20 Sep.