Waitress The Musical tours the UK for the first time, tickets on sale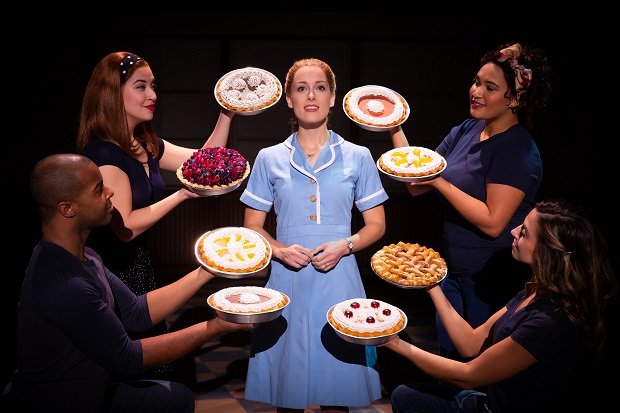 Broadway hit to tour in 11 cities from November 2020
Waitress The Musical is heading out on its first-ever UK tour from November 2020 and will run into spring 2020. Tickets for all dates go on sale at various times starting times. Shows in Manchester, Sunderland, Bristol and Edinburgh are on sale now.
The musical was incepted onto Broadway in 2016 and premiered for the first time in the UK in February 2019. The tour will call at 11 cities along the way, kicking things off on Tue 24 Nov a the Churchill Theatre in Bromley. The tour runs into 2021 when it rounds off at Birmingham Hippodrome on Sat 3 Apr.
The show is described as an uplifting celebration of friendship and motherhood, with the magic of a well-made pie thrown in. The musical has been adapted for the stage by a trailblazing all-female creative team. The plot, originally penned by Adrienne Shelly for the 2007 movie, details the life of Jenna, a waitress, and specialist pie maker who dreams of escaping her small town and failing marriage. When a baking contest comes to town Jenna sees her chance for a fresh start if only she can get the perfect recipe.
The musical is filled with original music and lyrics by six-time Grammy nominee Sara Bareilles (Brave, Love Song), complemented with a book by acclaimed screenwriter Jessie Nelson (I Am Sam) and directed by Tony Award-winner Diane Paulus (Pippin, Finding Neverland). Full casting for the 2020/21 tour is to be confirmed in the coming months.
Waitress The Musical tour dates 2020/21:
Tue 24–Sat 28 Nov – Churchill Theatre, Bromley
Mon 30 Nov–Sat 5 Dec – Manchester Opera House
Tue 12–Sat 16 Jan – Edinburgh Playhouse
Tue 26– Sat 30 Jan –Sheffield Lyceum Theatre
Mon 1– Sat 6 Feb – Sunderland Empire
Mon 8– Saturday 13 Feb – Hull New Theatre
Mon 15–Sat 20 Feb – Cliffs Pavilion, Southend
Tue 23–Sat 27 Feb –His Majesty's Theatre, Aberdeen
Tue 9–Sat 13 Mar – Bristol Hippodrome
Mon 15–Sat 20 Mar – Congress Theatre, Eastbourne
Mon 29 Mar–Sat 3 Apr – Birmingham Hippodrome
Tickets for Waitress The Musical at various venues are on sale now.