Jason Manford confirms new tour, find out how to get presale tickets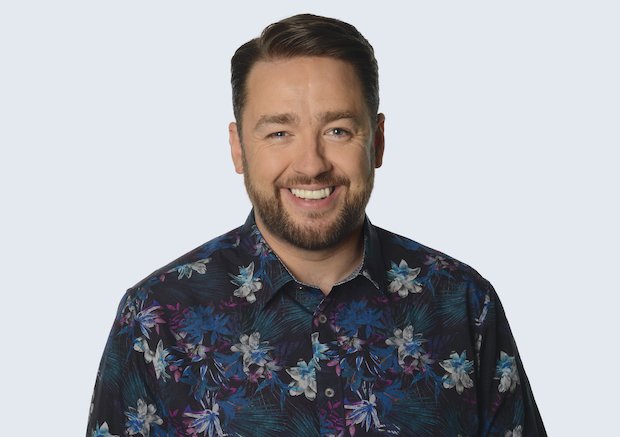 Comic returns with string of work-in-progress dates and full tour with show Like Me
Jason Manford is heading out on tour throughout 2020/21. He'll be staging several work-in-progress performances from Sep-Jan before rolling out a full-blown tour with new show Like Me in 2021. Presale tickets are available from 10am on Wed 26 Feb ahead of the general sale at 10am on Fri 28 Feb.
Like Me follows on from Manford's last show, Muddle Class. The comic has been a regular on our screens and stages as of late, appearing in productions of Curtains and Guys and Dolls, and on-screen he most recently appeared on The Masker Singer.
Speaking of his new tour, Jason Manford said 'After the fun we had on my last tour Muddle Class, I'm excited to get back on the road with my new stand‐up show Like Me. In these trying times, it's always important to be able to get away for a couple of hours and exercise the old chuckle muscle!'
Presale tickets for Jason Manford's Like Me tour go on sale at 10am on Wed 26 Feb. The general sale begins at 10am on Fri 28 Feb.
Jason Manford work-in-progress dates:
4 Sep – Brewery Arts, Kendal
5 Sep – Brewery Arts, Kendal
9 Sep– Square Chapel, Halifax
10 Sep – Met, Bury
11 Sep – Met, Bury
12 Sep – Met, Bury
16 Sep – The Witham, Barnard Castle
17 Sep – The Witham, Barnard Castle
18 Sep – Little Theatre, Chorley
19 Sep – Little Theatre, Chorley
23 Sep – The Queens Hall, Hexham
24 Sep – The Queens Hall, Hexham
25 Sep – The Forum, Northallerton
26 Sep – The Forum, Northallerton
30 Sep – Lowther Pavilion, Lytham St Annes
1 Oct – Lowther Pavilion, Lytham St Annes
2 Oct – ARC Theatre, Stockton
3 Oct – ARC Theatre, Stockton
7 Oct – The Brindley, Runcorn
8 Oct – The Brindley, Runcorn
9 Oct – Middleton Arena, Middleton
10 Oct– Middleton Arena, Middleton
14 Oct – Theatre, Harrogate
15 Oct – City Varieties, Leeds
16 Oct – Grand Theatre, Lancaster
17 Oct – Grand Theatre, Lancaster
21 Oct– Theatre Severn, Shrewsbury
22 Oct – Theatre Severn, Shrewsbury
23 Oct – Floral Pavilion, New Brighton
4 Nov – Gatehouse, Stafford
5 Nov – Gatehouse, Stafford
6 Nov – Lyceum, Crewe
7 Nov – Lyceum, Crewe
11 Nov – Oakengates Theatre, Telford
12 Nov – Oakengates Theatre, Telford
21 Nov – Winding Wheel, Chesterfield
27 Jan – Chatham Central Theatre, Kent
28 Jan – The Cresset, Peterborough
29 Jan – Dudley Town Hall, Dudley
30 Jan – Dudley Town Hall, Dudley
Like Me 2021 shows:
3 Feb – The Anvil, Basingstoke
5 Feb – Watford Colosseum, Watford
6 Feb – St David's Hall, Cardiff
10 Feb – G Live, Guildford
11 Feb – Orchard Theatre, Dartford
12 Fe – The Waterside Theatre, Aylesbury
13 Feb – De Montfort Hall, Leicester
17 Feb – Barbican, York
19 Feb – O2 City Hall, Newcastle
24 Feb – Regent Theatre, Stoke-On-Trent
25 Feb – Opera House, Buxton
26 Feb – Royal Concert Hall, Nottingham
5 March 2021 – G Live, Guildford
6 Mar – Hexagon Theatre, Reading
10 Mar – Dorking Halls, Dorking
11 Mar – Charter Hall, Colchester
17 Mar – Pyramid and Parr Hall, Warrington
18 Mar – Pyramid and Parr Hall, Warrington
19 Mar– O2 Apollo Manchester
20 Mar – O2 Apollo Manchester
24 Mar – Salisbury City Hall, Salisbury
25 Mar – Corn Exchange, Cambridge
26 Mar – Southend Cliffs Pavilion, Southend-On-Sea
14 Apr – Grove Theatre, Dunstable
16 Apr – Forum, Bath
17 Apr – The Queens Theatre, Barnstaple
25 Apr – Caird Hall, Dundee
29 Apr – Guildhall, Portsmouth
30 Apr – White Rock Theatre, Hastings
1 May – Brentwood Live, Brentford
5 May – Baths Hall, Scunthorpe
8 May – Sheffield City Hall Oval Hall, Sheffield
12 May – Baths Hall, Scunthorpe
14 May – St Georges Hall, Blackburn
15 May – King George's Hall, Blackburn
19 May – Engine Shed, Lincoln
20 May – Embassy Theatre, Skegness
21 May – Grimsby Auditorium, Grimsby
9 June – Alban Arena, St Albans
17 Jun – Kendal Leisure Centre, Cumbria
18 Jun – Carlise Sands Centre, Carlise
19 Jun – Alhambra Theatre, Dunfermline
24 Jun – Corn Exchange, Kings Lynn
25 Jun – Marina Theatre, Lowestoft
2 Jul – Meres Leisure Centre, Grantham
3 Jul – Regent Theatre, Ipswich
8 Jul – Auditorium, Grimsby
9 Jul – Spa Centre, Bridlington
23 Jul – Dome, Doncaster
28 Jul – Southport Theatre and Convention Centre, Southport
29 Jul – Convention Centre, Harrogate
23 Sep – The SSE Hydro, Glasgow
20 Oct – Bonus Arena, Hull