Kaye Wragg: Cheeky cup of tea helps relieve Holby City plot anxieties
Bang Showbiz
22 July 2020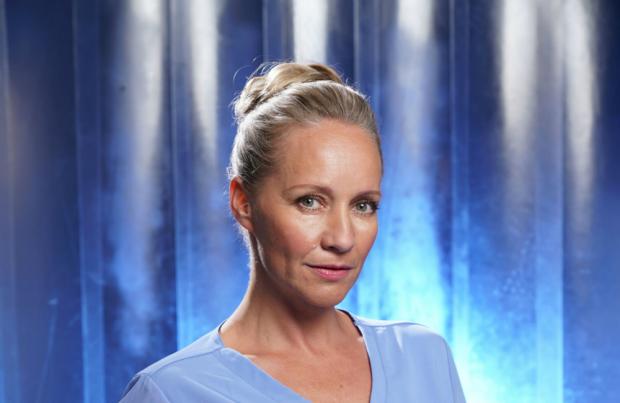 'Holby City' actress Kaye Wragg has admitted having a daily cup of tea with co-star Bob Barrett helps her ensure she doesn't take her character's terminal cancer storyline home with her
Kaye Wragg has a daily cuppa with Bob Barrett to ensure she doesn't take her 'Holby City' character's cancer plot home with her.
The 47-year-old actress plays Essie di Lucca, whose cancer recently returned and she later discovered it was terminal, but the star makes sure she doesn't think too much about the hard-hitting plot after work thanks to a regular "cheeky cup of tea" with Bob, who plays Dr. Sacha Levy.
When asked by her co-star Joe McFadden about her storyline, Kaye said: "It's thoroughly depressing [playing out the plot]."
But she added: "Bob and I have a cheeky cup of tea before I go home, and then I get rid of everything that I've done in the day.
"Otherwise, I get too anxious.
"It's a crazy schedule where you're in 10 hours a day playing sad.
"Even though my brain knows it's not real, my body has been crying all day."
Joe recently revealed he was to reprise his role as his late character Raf di Lucca's ghost in the BBC medical drama, which he did on Tuesday's (21.07.20) episode, to help Essie deal with her terminal cancer, and the star couldn't believe he was back on the set.
He said: "So I'm back on 'Holby' somehow. I never thought I'd see the day.
"I come back for Essie's exit storyline. I can't really give too much away.
"But yeah, I'm coming back as part-ghost, part-figment of her imagination, helping her make decisions and deal with the troubling times that she's going through."
Joe enjoyed being back on the 'Holby' set, but forgot how cold it can be.
Speaking in a video on the 'Holby' website, he added: "It's really surreal to be back and kind of lovely, but very cold.
"I forgot they film things three months in advance and it's freezing out there, so I have to pretend it's warm when it's really not!"
Earlier this month, Joe revealed he was returning as the surgeon, who he portrayed for four years on the hospital series before he was killed off in 2017.
He said: "I'll always look back on my four years on 'Holby' with such fondness as it was one of the happiest jobs I've done and it was a real pleasure to get to wear Raf's scrubs one last time in order to offer his wife Essie some guidance in such a touching episode."
The star's alter ego was killed off three years ago when Raf was shot by Fredrik Johanssen (Billy Postlethwaite) – the son of Holby CEO Henrik Hanssen (Guy Henry) – during a rampage through the hospital.