Illumination event Ignite to run at Kingston Lacy, tickets on sale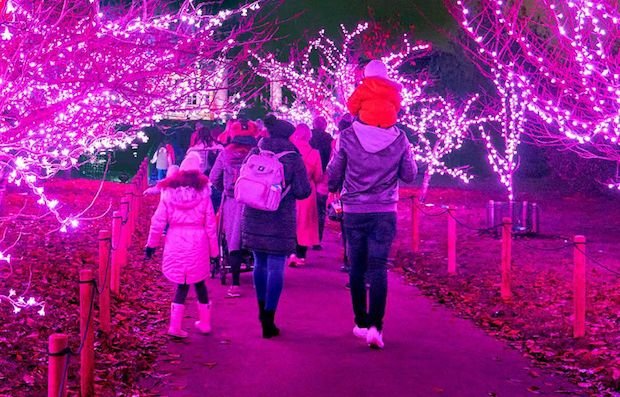 Dorset's country house and estate will provide the backdrop to a brand new Christmas light event
Dorset is home to the Grade I listed building and surrounds of Kingston Lacy which, for 2020, will play a glowing part in Christmas celebrations. A brand-new illumination experience entitled Ignite will run at the property from Fri 11—Wed 30 Dec. Tickets for Ignite at Kinston Lacy 2020 are on sale now and are sold in 15-minute intervals.
This December, the National Trust-run property invites families to the garden and parklands of Kingston Lacy to experience the new after-dark experience which has been produced in partnership with Sony Music. The new illuminated trial has been curated to evoke 'moments of reflection and playful discovery' from the enchanting illuminated landscape.
Visitors can enjoy a magical, new and immersive experience after-hours at Kingston Lacy. The hour-long trail features lantern-lit paths, illuminating fairies, fiery fish and woodland wildlife sculpted from willow and festooned in lights.
Ignite 2020 Kingston Lacy
Is Ignite at Kingston Lacy 'COVID-safe'?
Families visiting Kingston Lacy can rest assured that measures are being put in place to keep everyone as safe as possible at this year's light show. The event is fully outdoors and the National Trust has organised a reduced capacity event to ensure minimal queuing times. The trial will be mapped out to manage visitor flow, sanitation stations have been installed around the venue, and payments will be cashless and must be made as contactless transactions or by chip-and-pin. The cancellation policy allows visitors who can't make it to receive a full refund or exchange tickets for 2021.
Ignite at Kingston Lacy, Dorset runs from Fri 11—Wed 30 Dec. Entrance is permitted in 15-minute intervals from 4.15pm–8pm (times vary per day). Tickets are on sale now.