This article contains one or more affiliate links. If you follow one of these links, and make a purchase, we receive a commission.
Courtney Act and Monét X Change to star in Death Drop on London's West end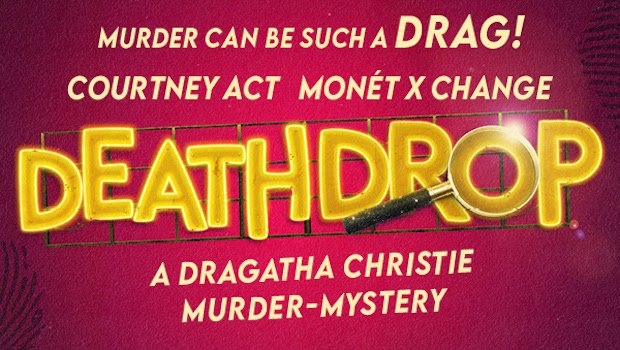 RuPaul's Drag Race superstars debut an all-new 'Dragatha Christie' murder mystery in the capital this winter
The all-new comedy show Death Drop will premiere on London's West End this winter. The show is set to run at the Garrick Theatre from Thu 3 Dec 2020—Sun 17 Jan 2021. Tickets for all performances go on sale on Wed 14 Oct.
Death Drop has been labelled as a 'Dragatha Christie, murder mystery'. The show will feature a full cast of leading drag performers on the West End stage for the first time, marking a historic moment for the theatre district. Audience members can expect a show filled with rising tension and plenty of ferocious finger-pointing rolled into 'this rampant, raucous, ridiculous romp of a murder mystery that has gallons of gags, and more twists and turns than a drag queen's wig.'
Australia's RuPaul's Drag Race runner-up Courtney Act and RuPaul's Drag Race US tenth-season contestant Monét X Change and cast will be transported back to Tuck Island, 1991 where a soirée like no other takes place. In true Drag Race-style, members of the party sashay away one-by-one until the last, nerve-shredding moment reveals exactly whodunnit.
Death Drop runs at the Garrick Theatre, London from Thu 3 Dec 2020—Sun 17 Jan 2021. Tickets are available on Wed 14 Oct.