Gorillaz announce O2 Arena show for August 2021, find out how to get tickets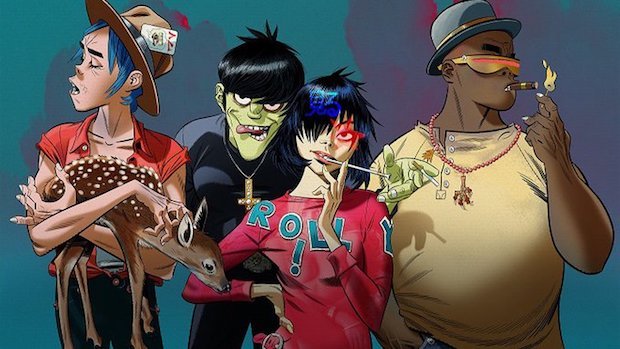 2-D, Murdoc, Russel and Noodle are back with new album Song Machine: Season One – Strange Timez
Gorillaz have confirmed they will perform at London's O2 Arena on Wed 11 Aug 2021. Tickets for the shows go on sale at 9am on Fri 6 Nov.
The group – made up of musicians Damon Albarn, Jamie Hewlett and Remi Kabaka Jr, yet fronted by the likable foursome of virtual characters 2-D, Murdoc, Russel and Noodle – released their seventh album, Song Machine, Season One: Strange Timez today.
Since 1998, the group have released a relentless string of pop hits including big bangers 'Clint Eastwood', 'Feel Good Inc.', 'Rock the House', 'Dare' and 'Kids With Guns', to name but a few from their illustrious discography. Song Machine, Season One: Strange Timez, came out as no ordinary release, and instead follows on from the Strange Timez digital project. One track from the forthcoming album was released every week online, fitting with the digital realm that lockdown has brought upon us.
Gorillaz have worked with a plethora of talent over the years and the new material is no exception. The record features a phenomenal roster of musicians including Robert Smith, Elton John, Kamno, Slowthai, Octavian, ScHoolboy Q and more. Ahead of the 2021 O2 Arena show, Gorillaz will perform Song Machine Live over two ticketed live stream events.
Gorillaz 2020/2021 live shows:
Sat 12 Dec — Streaming Event (Song Machine Live)
Sun 13 Dec — Streaming Events (Song Machine Live)
Wed 11 Aug 2021 — The O2, London
Tickets for Gorillaz at The O2 Arena go on sale at 9am on Fri 6 Nov.