EastEnders play April Fool's prank by joking Queen Vic to be renamed after dog Lady Di
Bang Showbiz
1 April 2021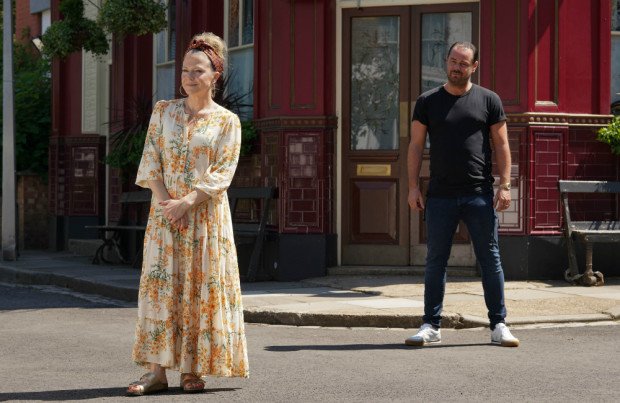 'EastEnders' left some fans in tears today (01.04.21) by revealing The Queen Vic was to be renamed after the Carters' dog Lady Di, only for it to be an April Fool's Day prank
'EastEnders' played an April Fool's Day prank on viewers today (01.04.21) by joking they are renaming The Queen Vic as The Lady Di – in honour of the Carter family's dog.
Kellie Bright and Rose Ayling-Ellis teamed up to film a special scene, which the BBC One soap claimed is part of tonight's episode, as their characters Linda Carter and Frankie Lewis unveiled the pub's new sign, which featured a painting of the pet pooch.
A tweet on the official 'EastEnders' Twitter account read: "The end of an era for Albert Square. A new beginning for the Carters. Welcome to Walford, The Lady Di!  
#EastEnders. Tonight. 7:35pm (sic)"
In the scene, Linda rips open a package to see the new sign and says: "Oh, it's even better than I thought it would be."
Frankie says: "Wow. I'm just shocked. Did Mick not know?"
But Linda says she wants it to be a surprise for her husband Mick Carter (Danny Dyer), and then looks over to the Queen Victoria bust and apologises for the name change.
Frankie says: "I think it's a wonderful idea. I love it."
The pub exterior then comes into shot and The Queen Vic sign has been replaced with The Lady Di.
Some fans fell for the prank, before realising it was an April Fool's.
One wrote: "I was furious till I realised. Peggy would never stood for this (sic)"
Another posted: "Your mean lol I almost fell for it (sic)"
One fan was left in tears, before realising what day it was.
They tweeted: "Nooooooooo. I want the Old Vic back. I'm crying. (sic) "
But they then posted: "Wait a minute. It's April Fools. It better be. (sic)"