This article contains one or more affiliate links. If you follow one of these links, and make a purchase, we receive a commission.
Foo Fighters announce UK arena tour for 2022: how to get tickets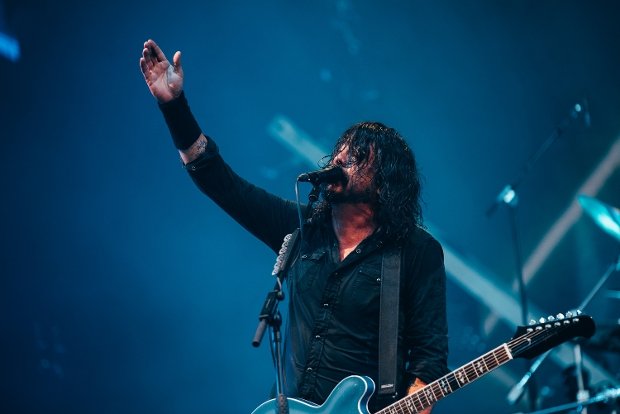 The band will play Manchester, London and Birmingham
The Foo Fighters have announced a handful of arena shows in the UK for 2022. Tickets go on sale at 9am on Friday 20 August.
The tour will be partly in support of their latest album Medicine At Midnight, which released last February. Foo's frontman Dave Grohl previously said of touring after the pandemic, 'When we get back and once it happens that we walk on stage to an audience, I have a feeling it'll be the best show and the best feeling the band's ever had.'
Grohl and his band have remained remarkably prolific during lockdown, promoting Medicine At Midnight, releasing a collaborative single with Mick Jagger called 'Eazy Sleazy', and releasing a spoof disco album under the pseudonym the Dee Gees. Grohl also recently announced a new autobiography entitled The Storyteller, set for release in October.
The 'Everlong' hitmakers were the first band to play a full-capacity show at New York City's Madison Square Gardens after pandemic restrictions eased, and have since announced a slew of gigs in the US.
The UK tour will hit Manchester first on Saturday 25 June, before heading to Birmingham's Villa Park on Monday 27 June and finishing with two nights at London Stadium on Thursday 30 June and Saturday 2 July.
Support will come from St Vincent and Loose Articles in Manchester, Courtney Barnett and Hot Milk in Birmingham, St Vincent and Shame at the first London show, and Courtney Barnett and Hot Milk for the second. Expect to hear plenty of songs from the band's latest album, as well as hits like 'Times Like These', 'Monkey Wrench', 'Best Of You' and 'The Pretender'.
Foo Fighters' 2022 UK performance dates:
Saturday 25 June – Emirates Old Trafford, Manchester
Monday 27 June – Villa Park, Birmingham
Thursday 30 June – London Stadium
Saturday 2 July – London Stadium
Tickets for Foo Fighters UK gigs go on sale at 9am on Friday 20 August.