Denise Welch 'heartbroken' as her dad dies
Bang Showbiz
29 September 2021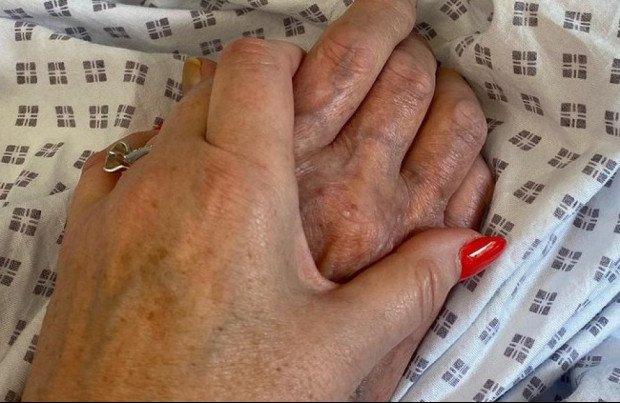 Denise Welch has taken to Instagram to announce the passing of her dad, Vin Welch
Denise Welch's dad has passed away.
The 63-year-old actress took to Instagram to announce the death of her father, Vin Welch, and Denise admitted she "can't quite function" because she is "grief stricken".
Alongside a photo of the 'Hollyoaks' star holding her dad's hand, she wrote: "The words I've dreaded saying all of my life.
"Last night at 11pm, we lost our dad, the life force that was Vin Welch. After making a miraculous recovery recently from major surgeries, pneumonia plus his existing pulmonary fibrosis was more than even he could take.
"He left us surrounded by his family who could not have loved anyone more.
"I can't quite function as I'm so grief stricken, but I know he meant so much to so many people, even those who'd never met him."
Former 'Coronation Street' star Denise subsequently praised her dad's fighting spirit and also thanked healthcare workers at Durham University Hospital.
The actress' post continued: "I've never seen anyone fight to stay longer at a party than dad and last night was no different.
"He loved life and lived it to the full like no other.
"The nurses in Ward 6 at Durham University hospital will forever be in our hearts as they gave dad the most peaceful passing anyone could wish for. They adored him and he them. Heather, Helen, Lauren, Naz, Chloe, Graham, Debs to name but a few. We will NEVER forget you.
"Love you dad. Heartbroken [broken-heart emojis] (sic)"
In March, Denise revealed she'd rushed to be by her dad's side after he suffered a fall.
The TV star explained at the time that Vin – who had "not been well since Christmas" and needed a gallbladder operation – "had a bit of a fall", although she reassured fans that he was still doing "alright".
Denise shared on 'Loose Women': "My dad Vin, friend of the show, has not been well since Christmas.
"He's got to have a gallbladder operation. He had a bit of a fall the other night.
"So my sister and I are sharing care for him at the moment.
"I drove up hastily to see him. And he wants everybody to know that he's alright, but it was a bit of a shock to the system.
"So I'm coming here from County Durham, where I grew up. It's full of nostalgic feelings for me."