Want tickets for Red Hot Chili Peppers 2022 UK tour? Here's everything you need to know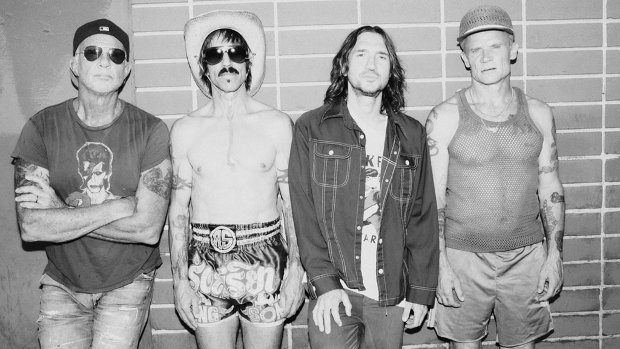 The band are set to hit Manchester, London and Glasgow as part of their world tour
Few bands are more universally loved than the Red Hot Chili Peppers, and so it makes sense that the world went a little bit insane when news of the RHCP World Tour 2022 broke. With only three dates planned for the UK leg of their tour, we'll be amazed if these tickets don't fly out the door.
Looking to improve your chances of nabbing a ticket? Then check out this article for everything you need to know about the Red Hot Chilli Peppers' next trip to the UK, including when tickets go on sale, pre-sale information, who'll support the band, and what might feature on their set list. Head to the bottom of this article to sign up for an email reminder half an hour before tickets go on sale.
Where and when will Red Hot Chili Peppers be performing in the UK?
The Red Hot Chili Peppers will play three staggeringly huge venues in the UK as part of their world tour. They'll kick off proceedings on Wednesday 22 June at Manchester's Emirates Stadium, before heading to London Stadium on Saturday 22 June then Glasgow's Bellahouston Park on Friday 1 July. Here's a detailed list of where they're playing:
Wednesday 22 June – Emirates Stadium, Manchester
Saturday 25 June – London Stadium
Friday 1 July – Bellahouston Park, Glasgow
When do Red Hot Chili Peppers tickets go on sale?
An album presale and an O2 Priority presale will commence at 10am on Tuesday 12 October. There will then be a fan presale for the shows at 10am on Wednesday 13 October. Tickets go on general sale at 10am on Friday 15 October.
Where can I buy Red Hot Chili Peppers tickets?
Tickets for the Red Hot Chili Peppers' UK dates are available from Ticketmaster.
How much will tickets for the performances cost?
There's currently no information on ticket prices, but we'll update this section when we know more.
There is a strict limit of four tickets per person and per card for the presale, rising to six tickets per person and per card for the general sale.
Who'll be supporting the Chilis on their tour?
In Manchester, Support for the Chilis comes from rapper A$AP Rocky and bass-playing supremo Thundercat. Fans who attend the London and Glasgow performances will see rapper Anderson .Paak, R&B upstarts Free Nationals and Thundercat.
Outside of the UK, support will come from a huge range of A list artists including The Strokes, Beck, HAIM, St. Vincent, and King Princess.
What can I expect to hear at the Chilis gigs?

The Chilis have a long and illustrious history of chart-topping singles since their formation in 1983. Whether it's the bass-slapping freak outs of 'By The Way', 'Can't Stop' and 'Give It Away' or the melancholic ruminations of 'Californication', 'Under The Bridge' and 'Road Trippin', there's no shortage of singalong tracks to fill up their set list.
While it's reasonable to expect the shows to consist of the greatest hits, the band have also promised to tease new material from their as-yet untitled forthcoming new album. Let's hope it can gee up a crowd like their classics.
We'd also bet that the set list will consist of plenty of tracks from their 1991 Rick Rubin-produced LP Blood Sugar Sex Magik, which is celebrating its 30th anniversary this year. That means you'll probably hear 'Suck My Kiss' and 'Breaking The Girl'.
A big selling point of this tour is the return of guitarist John Frusciante, whose on-off relationship with the Chilis has helped produce some of their biggest hits. Expect to hear plenty from albums he's been involved in – Mother's Milk, Blood Sugar Sex Magick, Californication, By The Way and Stadium Arcadium – and a lot less from the albums without his special touch, particularly the band's 2010 ventures I'm With You and The Getaway, which featured guitarist Josh Klinghoffer in Frusciante's place.
Is the Chili's new material any good?
Kleidis, Flea and company have remained tight-lipped about the new album so far, so it's hard to say too much about it. The band's drummer Chad Smith said in a 2020 interview with Rolling Stone, 'Yes, John is back in the band, and everyone knows that. We're psyched. For now, we'll mostly be concentrating on new songs and writing a new record.'
What we do know is that the album is almost finished and musical titan Rick Rubin is producing. As for whether the tracks for the new album are any good, these shows could be the first time we find out.
Why is John Frusciante's return a big deal?
Much like Flea is a prodigious bassist, Frusciante has been a fan favourite in the Chilis since he joined the band in 1988.
His seemingly effortless playing style has made an indelible mark on the band's sound, to the extent that audiences celebrate when he re-joins the band and lament when he's gone. After the critically maligned albums I'm With You and The Getaway, the Chilis will be hoping that the presence of their premier guitarist will score them a hit.
How can I guarantee that I'll get tickets?
As ever, there are a few sure-fire ways to increase your chance of nabbing tickets for on-sale day. Don't refresh your browser when you're in the queue, stay patient and make sure you're using a steady internet connection. To receive a reminder half an hour before tickets go on sale, click the 'I'd love a reminder' button at the bottom of this article. Good luck!
Tickets for Red Hot Chili Peppers' UK shows go on general sale at 10am on Friday 15 October.