This article contains one or more affiliate links. If you follow one of these links, and make a purchase, we receive a commission.
Want tickets for Liam Gallagher's Manchester and Glasgow shows? Here's everything you need to know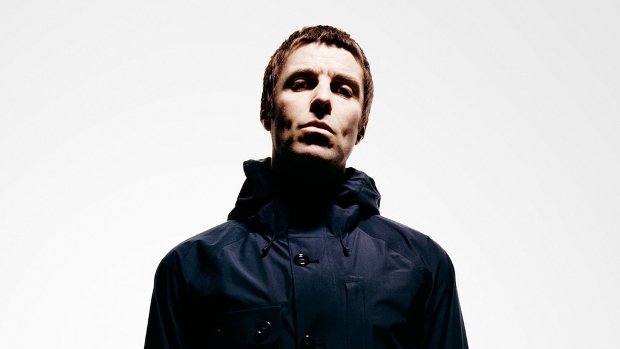 The former Oasis frontman will play Manchester and Glasgow in support of his latest album
He's at it again – after selling out two days at Knebworth Park last week in a matter of hours, Liam Gallagher has announced two stadium shows in Manchester and Glasgow next June.
Gallagher spent a portion of his Monday afternoon teasing fans with photos of the world famous stadiums on his Twitter account before dropping the news like a welcome rendition of 'Wonderwall' at a karaoke night.
Manchester's favourite son tweeted: 'I'm super proud to announce I'm doing a gig in my hometown of Manchester on 1st June 2022 - home of the champions of English football Manchester City. Also can't wait to play Glasgow's famous Hampden park 26th June 2022. C'MON YOU KNOW LG x'
Want the lowdown on how to get tickets before they sell out? Then take a look at this article, which tells you when the Glasgow and Manchester shows are happening, what might be on Arkid's set list, how much tickets will cost and much more. To receive a reminder half an hour before tickets go on sale, click the 'I'd love a reminder' button at the bottom of this article.
Where and when will Liam Gallagher be performing in the UK?
As well as his two nights at Knebworth, Gallagher will play a homecoming show at Manchester's Etihad Stadium on Wednesday 1 June and Glasgow's Hampden Park on Sunday 26 June.
If you've bought tickets for Knebworth but would prefer Manchester or Glasgow, you're in luck. Organisers for the shows have announced an exchange scheme for Liam Gallagher tickets, stating, 'If you are a ticket holder for Knebworth and wish to exchange your general admission ticket for the same at either Manchester or Glasgow please contact your point of purchase by 12pm on Wednesday 13 October and an exchange can be facilitated.'
Here's a detailed list of all Gallagher's gigs in 2022:
Wednesday 1 June – Etihad Stadium, Manchester
Friday 3 June - Knebworth Park, Stevenage (SOLD OUT)
Saturday 4 June – Knebworth Park, Stevenage (SOLD OUT)
Sunday 26 June – Hampden Park, Glasgow
When do Liam Gallagher tickets go on sale?
Fans who pre-order C'MON YOU KNOW, Gallagher's third studio album set for release on Friday 27 May, on his official site by 3pm on Wednesday 13 October will receive access to a pre-sale for tickets that opens at 9.30am on Thursday 14 October. Tickets will then go on general sale at 9.30am on Friday 15 October.
Where can I buy Liam Gallagher tickets?
Tickets for Liam Gallagher's shows in Manchester and Glasgow are available from Ticketmaster and See Tickets.
How much will tickets for the performances cost?
Tickets for Gallagher's Manchester show will cost £51.10 at their cheapest and £106.80 for VIP tickets, with seated and standing options available.
Tickets for his Glasgow show range from £50.65 and £84.40, with seated and standing options available.
You'll be able to buy a maximum of four tickets per person and per household for the presale, and six tickets per person and per household at general sale. Tickets in excess of six will be cancelled.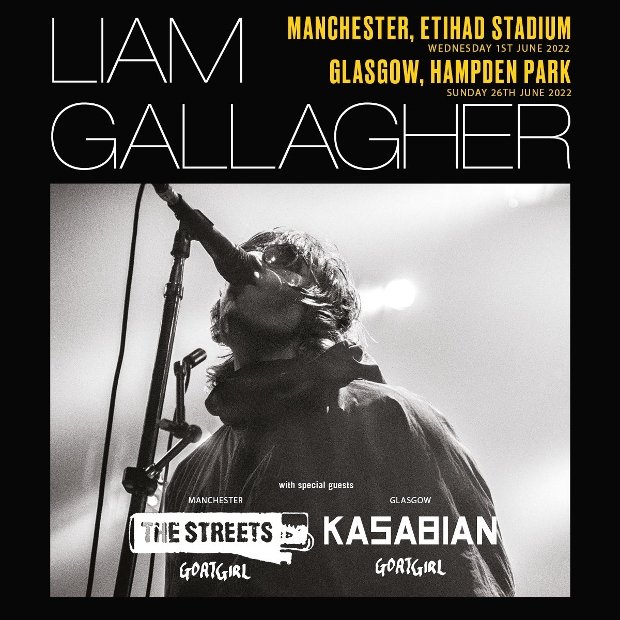 Who'll be supporting Gallagher at the gigs?
Like Knebworth, Liam's rounded up a veritable goldmine of support acts for his tour. In Manchester, Arkid will be joined by cheeky cockneys The Streets (who are also on tour in 2022) and punk rockers Goat Girl, while in Glasgow he'll be joined by Kasabian and Goat Girl.
What can I expect to hear at Gallagher's gigs?
As we said in our recent article on his Knebworth shows, Gallagher is a born crowd pleaser, so expect to hear as many Oasis classics as he can pack into a single set.
But the Mancunian's been no slouch in his solo career when it comes to hit singles. His past two albums have featured the bone-crunching rocker 'Wall Of Glass', the melancholic ballad 'Once' and the swaggering Ian Brown-alike 'One Of Us'. He'll undoubtedly play them all, as well as plenty of tracks from his new album, at the very least to show Noel that he doesn't need him for success.
More than anything, you'll hear Liam's voice in fine fettle. While he sounded a bit like a strangled frog during Oasis's later days, the classic snarl of Definitely Maybe and What's The Story Morning Glory? has made a beautiful return since his solo career, albeit with a lower vocal register and a touch more refinement.
Gone are the days when he could sing with glorious abandon, but in their place is a show-stopping professionalism that's made the former Oasis frontman one of the most electrifying live acts on the stadium circuit today. To show you what we mean, here he is playing a barn-storming rendition of 'Stand By Me' at Reading and Leeds Festival this summer:
Is Gallagher's C'MON YOU KNOW album any good?
Liam's been a cheeky lad this week, teasing a new album without actually releasing new material, adhering to the old joke, 'Noel Gallagher's released a new album to promote his next round of interviews.'
A new single must be on the way soon, but whatever the 49-year old singer has planned, he's keeping it close to his chest. Will it be an experimental dub track with a guest spot from Stormzy? No, no it won't. Expect wailing guitars, heavy drums, maybe some light orchestration, and Liam's trademark aggressive vocals.
We asked this about Knebworth too, but are these secretly Oasis reunion shows?
It's almost a legal requirement to bring up an Oasis reunion whenever Noel or Liam so much as pick their nose, but we'd be amazed if the duo are getting the band back together next year.
That's not to say it'll never happen. Jake Scott, director of Oasis Knebworth 1996, recently enthused about the prospect of a reunion, stating, 'Yeah. I'd love to think so. It'd be lovely. Oh God it'd be great wouldn't it? There's so much studio manipulation in music now. Just a solid rock n roll band would be an amazing thing to see again.'
So, who knows. It's not likely that either Knebworth or these stadium shows will see a guest appearance from Noel, but the future could see the brothers kiss and make up at any time.
How can I guarantee that I'll get tickets?
As usual, there are a few sure-fire ways to increase your chance of nabbing tickets for on-sale day. Don't refresh your browser when you're in the queue, stay patient and make sure you're using a steady internet connection. To receive a reminder half an hour before tickets go on sale, click the 'I'd love a reminder' button at the bottom of this article. Good luck and may your ticket purchasing be biblical.
Tickets for Liam Gallagher's shows in Manchester and Glasgow will go on sale at 9.30am on Friday 15 October.