RuPaul's Drag Race UK Series Three tour kicks off in summer 2022: how to get tickets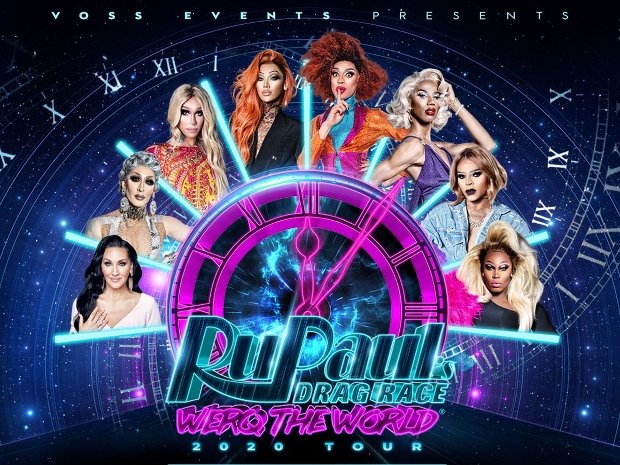 The drag stars will play massive performances in London, Newcastle, Dundee and more
The stars of RuPaul's Drag Race UK Series Three will tour the UK in August, September and October next year. Tickets for the shows go on sale at 10am on Friday 26 November. Check the bottom of this article for a detailed list of every date on the tour, and to sign up for an alert half an hour before tickets go on sale.
Every contestant from the third series will visit venues and theatres across the UK to sashay and lip sync live, including finalists Ella Vaday, Kitty Scott-Claus and Krystal Versace.
Other fan favourites like South London's Vanity Milan, who reached fourth place on the hit television show, will also perform on the tour next year.
Ben Hatton, Director of Theatre Touring for Cuffe and Taylor, said, 'We are delighted to already be announcing RuPaul's Drag Race UK: The Series Three Tour before we have even taken Series Two on the road.
'Such was the demand for sales for the first tour when we announced it earlier this year that we have decided to get everything in place for the Series Three tour now.
'RuPaul's Drag Race UK is an exciting show, and we can't wait to witness what will undoubtedly be many incredible and outrageous nights of live entertainment in venues across the UK.'
RuPaul's Drag Race UK Series Three 2022 tour dates:
Wednesday 31 August – St George's Hall, Bradford
Thursday 1 September – Symphony Hall, Birmingham
Sunday 4 September – Royal Concert Hall, Nottingham
Wednesday 7 September – O2 City Hall, Newcastle
Thursday 8 September – Caird Hall, Dundee
Friday 9 September – Playhouse, Edinburgh
Saturday 10 September – SEC Armadillo, Glasgow
Wednesday 14 September – Opera House, Blackpool
Thursday 15 September – Sheffield City Hall Oval Hall
Friday 16 September – M&S Bank Arena, Liverpool
Saturday 17 September – Bonus Arena, Hull
Sunday 18 September – Bristol Hippodrome
Wednesday 21 September – Venue Cymru Theatre, Llandudno
Thursday 22 September – Derby Arena
Friday 23 September – Swansea Arena
Saturday 24 September – Motorpoint Arena, Cardiff
Wednesday 28 September – Portsmouth Guildhall
Thursday 29 September – Bournemouth International Centre
Friday 30 September – Plymouth Pavilions
Saturday 1 October – The Brighton Centre
Monday 3 October – New Theatre, Oxford
Tuesday 4 October – Opera House, Manchester
Wednesday 5 October –Opera House, Manchester
Friday 7 October – The London Palladium
Saturday 8 October – The London Palladium
Wednesday 12 October – Southend Cliffs Pavilion, Southend-On-Sea
Friday 14 October – Regent Theatre, Ipswich
Saturday 15 October – Stockton Globe, Stockton-on-Tees
Sunday 16 October – Harrogate Convention Centre
Tickets for RuPaul's Drag Race UK Series Three 2022 tour dates go on sale at 10am on Friday 26 November.