This article contains one or more affiliate links. If you follow one of these links, and make a purchase, we receive a commission.
Tickets for Connect festival 2022 are on sale now: get to know the acts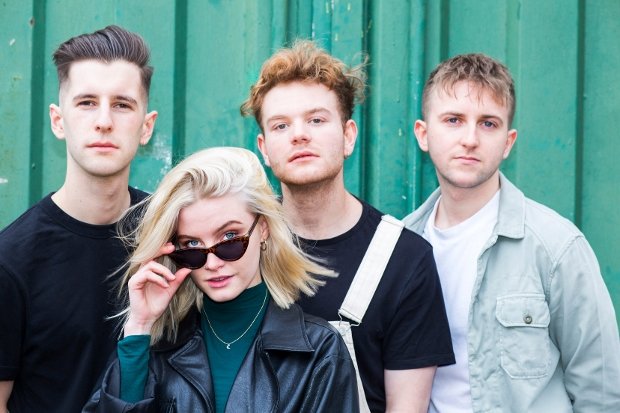 Discover the acts appearing at Edinburgh's revamped music festival that should definitely be on your radar
Edinburgh's Royal Highland Centre will host the latest edition of Connect music festival, a new iteration of the 2007 and 2008 events, which saw acts like Kasabian and Franz Ferdinand headline. Tickets for the festival, running from Friday 26 – Sunday 28 August, are on sale now.
This week, the first wave of performers for the 2022 festival were announced and boasts huge names like Massive Attack, Chemical Brothers, The National, Bombay Bicycle Club, Little Simz, Jon Hopkins, Mogwai, Bonobo and more. See the full line-up so far here.
Showcasing talent from the biggest names in the industry in a weekend of live music, art installations, spoken word, visual performances and artisanal food and drink, Connect will also shed light on some of the best up-and-coming acts the UK has to offer. We've devised a list of a few we think should be on your radar:
Swim School
Erupting across the indie scene right now, Alice Johnson fronts the Edinburgh-based band Swim School, whose sound is influenced by the 90s post-punk scene. Fans of Wolf Alice and Fatherson may be particularly keen to catch this set.
The four-piece released their debut single 'Sway' in 2019 and have been churning out hit after hit ever since. Their most recent EP Making Sense Of It All features five singles, including 'See Red' and 'Everything You Wanted'.
The care-free pop-rock anthems have a youthful and hazy sound, which should soundtrack a summer weekend in Edinburgh beautifully. Alongside Connect, the group will take to various stages in festivals across the UK including Standon Calling and Tramlines.
Swim School will perform on Saturday 27 August.
Maeve
Last year, the singer and producer released her new EP Caravaggio In A Corner Stone which features singles such as 'Bleach', 'Manic Pixie Dream Girl' and 'Sick'. Reminiscent of Billie Eilish's sound, the singles are imbued with a dramatic and eerie vibe.
Her 2018 release Beasts follows the same electronic tone and showcases the artist's impressive vocal ability, which emulates the likes of Lorde. With singles such as 'Martyr', Maeve is sure to provide an alluring and striking set.
The performer, who recently played at Primavera Sound festival in Barcelona, is as much a visual artist as a musician, demonstrating her acute knowledge of fashion with cutting-edge style (recently featured on British Vogue's social media).
On the announcement of her Connect appearance, Maeve says: 'Super excited to play Connect festival this year in my hometown! It's really great to see a revival of some Scottish festivals and can't wait to see who else is on the line up.'
Maeve will perform on Friday 26 August.
Hamish Hawk
Hot off the heels of his UK tour earlier this year (and opening for indie giants Franz Ferdinand), Scottish singer-songwriter Hamish Hawk will showcase his incredible talent at this year's Connect.
With his deep-toned Morrissey-esque vocals, Hawk will perform the hits from his latest album Heavy Elevator which features up-beat anthems such as 'Calls To Tiree' as well as lyrical masterpieces like 'The Mauritian Badminton Doubles Champion, 1973'.
Fans can also expect to hear numbers from the 2019 piano-led record Laziest River which the Edinburgh-born performer released in 2019.
Earlier this week, Hawk took to Twitter to announce his set at Connect, claiming that the festival holds 'only the fondest memories' for him and his band. Hawk is also set to play The Great Escape Festival in Brighton this May.
Hamish Hawk will perform on Sunday 28 August.
Rebecca Vasmant
Rounding off the weekend alongside Hamish Hawk is Rebecca Vasmant, a Glasgow producer creating a transcendent culmination of jazz, soul, funk, house and dance music.
Her set is sure to entertain, with dreamy singles such as 'Timing's End' from new EP With Love, From Glasgow. Other singles include 'Broken Biscuits' and 'Dance Yourself Free', mellow fusions of silky jazz tones paced by a rich electronic pulse.
The producer is set for a busy spring as she hits multiple festivals across Europe and the UK such as Liverpool's Disco Festival 9 and XJAZZ! in Berlin.
Vasmant runs a monthly spot on BBC Radio Scotland playing contemporary jazz records and has performed her house and techno sets at a number of renowned venues across the UK, including London's East Village and Leeds' Back To Basics.
Rebecca Vasmant will perform on Sunday 28 August.
Tickets for Connect Music Festival 2022 are on sale now.