Anna Friel wants people to 'forget' about her lesbian kiss on Brookside
Bang Showbiz
16 March 2022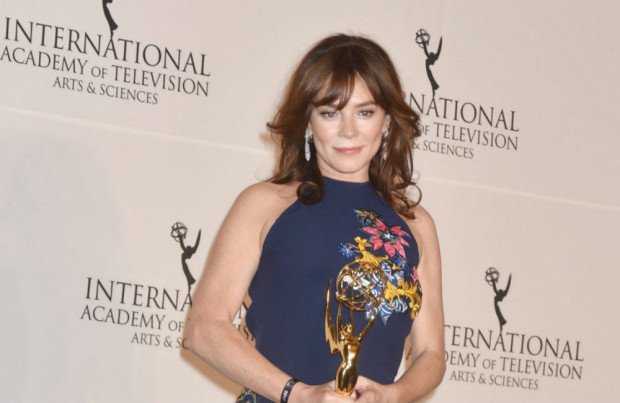 Anna Friel would rather fans forgot about her historic lesbian kiss on 'Brookside' from back in the 1990s
Anna Friel wants people to "forget" about her lesbian kiss on 'Brookside.'
The 45-year-old actress played Beth Jordache on the Channel 4 soap in the early 1990s and made history along with Nicola Stephenson as the first women to kiss on television before the 9pm watershed and while she wants to be remembered for her humble beginnings in Rochdale, she would rather people "forget" about her controversial time on the soap opera.
She said: "I never want people to forget that I come from Rochdale, but I'd like them to forget I did 'Brookside'. Looking back, all that controversy with Brookside was a good start, it made people know who I was but hopefully – and not just because I kissed a girl on telly – for all the right reasons."
Anna – who has since gone on to achieve further acting success with roles in American comedy 'Pushing Daisies' and detective series 'Marcella' – went on to reveal that her mother and grandmother were not too keen on the lesbian kiss, the rest of her family were "cool" with the controversial moment.
She told Chap Magazine: "My grandma said she hated me kissing that girl. Now I hope you won't be doing that anymore', she said 'None of that old nonsense'. My mum only said, 'I don't really like that, Anna'. My family were all cool though, really."
The kiss became an iconic moment from the now-defunct Liverpudlian soap opera and was broadcast around the world – including countries where homosexuality is illegal – when it was featured as part of a montage at the opening ceremony of the 2012 Olympics in London.
Anna – who was featured on 'Brookside' between 1993 and 1995 – also explained that her parents were determined to keep her grounded as she found fame in her late teens.
She said: "I stayed with my mum and dad while filming and drove to Liverpool every day. They were very concerned that I kept two feet on the ground and stayed the same. I was lucky in that I had a strong Irish dad and a Yorkshire mum who kept me in check and stopped me misbehaving."