Want tickets to Paolo Nutini's 2022 UK tour dates? Here's everything you need to know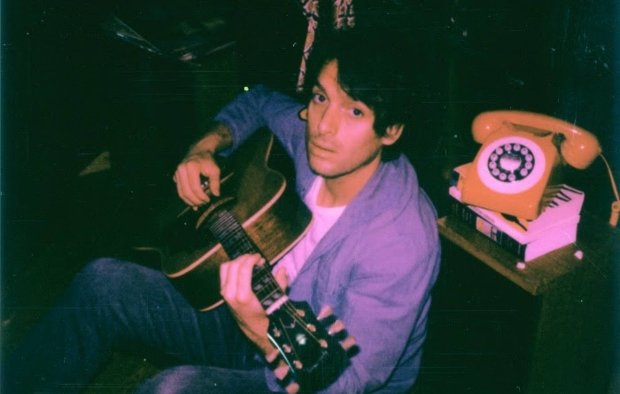 The lauded soul rock singer-songwriter marks his return with a new album and UK tour dates
I don't want to speak on anyone's behalf, but the Scots hold Paolo Nutini in a very special place in our hearts. He's one of the most unique and treasured artists to come from our nation and we ferociously support him like a parent does a child. That's not to say that the whole of the UK doesn't dote on him either. In 2009 the fresh-faced and wild-haired twenty-something won the hearts of the masses with love-struck debut singles such as 'Last Request'.
After 2014 and the release of his third album Caustic Love, it was radio silence from the star and it seemed as though the name 'Paolo Nutini' was a distant memory of days gone by. After waiting patiently for almost a decade, we finally welcome him back to the music scene with open arms. The agonising eight-year hiatus came to an end earlier this month when the gravel-voiced singer announced a handful of intimate shows around the UK along with two new singles. What a treat.
The smaller gigs inevitably sold out right away, but earlier this week the 'Candy' performer announced a whole new set of UK and European tour dates where he'll showcase his upcoming album Last Night In The Bittersweet, set to release on Friday 1 July. The performances will be his first in five years, so tickets will be highly sought-after.
UK & European Tour 2022. Pre-order the new album 'Last Night In The Bittersweet' before 3pm BST 23rd May for early access to tickets. https://t.co/kktJ5djDwR pic.twitter.com/kpgtMkJQWc

— Paolo Nutini (@PaoloNutini) May 18, 2022
To help you nab tickets, we've whipped up this handy guide. Read on to find out when and where Paolo Nutini is playing, when tickets go on sale, what presales are available, who'll support him on the tour, what his latest release is, and more. To receive an email reminder half an hour before tickets go on sale, click the 'I'd love a reminder' button at the bottom of this article.
Where and when will Paolo Nutini be performing in the UK?
The 'Iron Sky' penman has lined up huge gigs across six venues in the UK. He'll head out to Manchester on Saturday 22 October before calling at London, Birmingham, Hull, Edinburgh and Aberdeen from Tuesday 25 October to Tuesday 1 November. Read on to find out when and where you can get tickets.
He's got a busy summer planned before he embarks on his headline tour, but he does have a lot of lost time to make up for. He'll appear at Glasgow's TRNSMT Festival alongside fellow Scottish singer-songwriter Lewis Capaldi, The Strokes, Foals, Sam Fender, Wolf Alice, Fontaines D.C. and countless others. He'll also play alongside British rockers Kasabian at 90s icon Liam Gallagher's Knebworth Park show this June.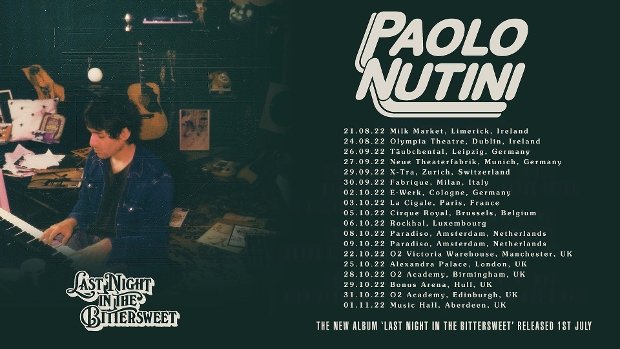 Here's a list of Paolo Nutini's 2022 UK tour dates:
Friday 3 June – Knebworth Park, Stevenage
Friday 8 July – TRNST, Glasgow
Saturday 22 October – Victoria Warehouse, Manchester
Tuesday 25 October – Alexandra Palace, London
Friday 28 October – O2 Academy, Birmingham
Saturday 29 October – Bonus Arena, Hull
Monday 31 October – O2 Academy, Edinburgh
Tuesday 1 November – Music Hall, Aberdeen
When do tickets for Paolo Nutini go on sale?
Tickets go on general sale at 9am on Wednesday 25 May. There's an O2 Priority presale at 9am on Monday 23 May and an album presale at 9am on Tuesday 24 May for fans who pre-order upcoming album Last Night In The Bittersweet before 3pm on Monday 23 May.
Where can I buy tickets for Paolo Nutini's tour?
Tickets for the tour are available from Ticketmaster and See Tickets.
How much will tickets for the gigs cost?
See Tickets are pricing tickets for the tour from £34.60 to £48.90. A maximum of four tickets per person applies and tickets in excess of four will be cancelled.
Who'll be supporting Paolo Nutini on tour?
It's not yet been announced who'll support Paolo on his tour but we'll update this section as soon as we know.
Listen to 2014 hit 'Iron Sky'
What'll be on Paolo Nutini's setlist?
At his gig at The Leadmill in Sheffield earlier this month Nutini performed some of the well-loved tracks from his records throughout the past 15 years or so including 'Candy', 'Pencil Full Of Lead' and 'Coming Up Easy' from the Sunny Side Up days. Hits from 2014's critically acclaimed Caustic Love were also performed including 'Scream (Funk My Life Up)' and 'Iron Sky'.
He debuted a handful of songs from the upcoming album as well including 'Children Of The Stars', 'Desperation' and 'Radio' and you can expect that the tour will predominantly focus on Last Night In The Bittersweet. You can count on him bringing out 'Jenny Don't Be Hasty' and 'Alloway Grove' for old time's sake though.
What's Paolo Nutini's latest release?
Nutini's evolution from These Streets to Caustic Love demonstrates a blend of folk-rock, jazz, pop-rock and blue-eyed soul but his lyricism has remained touching and profound throughout, a trend which certainly translates into his latest release.
Earlier this month the Paisley-born artist released two singles ahead of the upcoming album, 'Through The Echoes' and 'Lose It'. The former is a tender ballad which is reminiscent of the tender and forlorn tunes of his early days while 'Lose It' is a pop-punk anthem laced with a nostalgic 90s sound. The rest of the new material is due to come out with Last Night In The Bittersweet on Friday 1 July.
Check out latest single 'Through The Echoes'
How can I guarantee that I'll get tickets?
Though tickets are bound to sell out for the tour, there are a few effective ways to increase the odds of getting your hands on tickets for Paolo Nutini this Friday. Log into your preferred ticketing provider ahead of time, don't refresh your browser when you're in the queue, stay patient and make sure you're using a steady internet connection. To receive a reminder half an hour before tickets go on sale, click the 'I'd love a reminder' button at the bottom of this article.
Tickets for Paolo Nutini's UK arena tour go on sale at 9am on Wednesday 25 May.