This article contains one or more affiliate links. If you follow one of these links, and make a purchase, we receive a commission.
Want tickets to Biffy Clyro's 2022 UK tour dates? Here's everything you need to know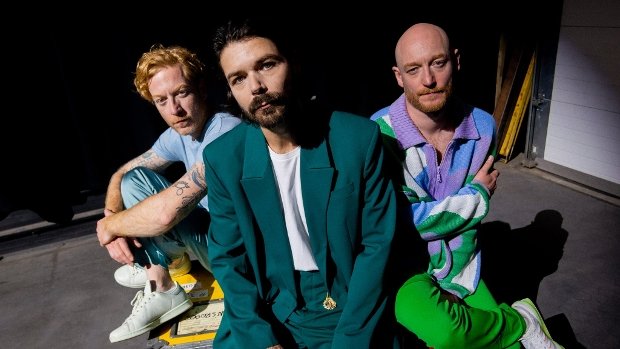 The award-winning Scottish alt rock trio will hit arenas in Leeds, Glasgow, Belfast, London and more this November
Biffy Clyro are storming their way through festival season this year with RockFest, Rock For People and BergenFest already ticked off their long list of European stages lined up for the summer. Earlier this month the Scottish rock legends also smashed a headline slot at the iconic Download Festival, bewitching the vast crowd in their usual shirtless, high-energy and sweat-drenched fashion.
The group have come a long way since their humble beginnings back in mid-90s Kilmarnock. The trio caught mainstream attention in 2007 with the release of fourth album Puzzle and their support slots for rock giants such as The Who, Red Hot Chili Peppers, Muse and The Rolling Stones. Six years later they found themselves headlining Reading and Leeds Festival with a fiercely dedicated fanbase of their own.
Earlier this week, with ears no doubt still ringing from their Download set, they announced that they are set to embark on yet another headline arena tour of the UK and Ireland this winter, this time accompanied by metalcore favourites Architects. Mon the Biff!
To help you nab tickets, we've whipped up this handy guide. Read on to find out when and where Biffy Clyro are playing, when tickets go on sale, what presales are available, who'll support them on the tour, what their latest release is, and more. To receive an email reminder half an hour before tickets go on sale, click the 'I'd love a reminder' button at the bottom of this article.
Where and when will Biffy Clyro be performing in the UK?
They've certainly got a busy year lined up. Alongside the eight arena performances scheduled for the UK and Ireland this November, they've also got gigs at festivals all over Europe in the diary. On the tail of festival season they'll hit arenas including Glasgow's Hydro, Belfast's SSE Arena, Birmingham's World Resorts Arena and Cardiff's Motorpoint Arena. See a full list of tour dates and venues below.
Before they embark on their arena tour they'll play at The Big Top Edinburgh this June, playing alongside 50 Cent, Fatboy Slim, Richard Ashcroft, Madness and more.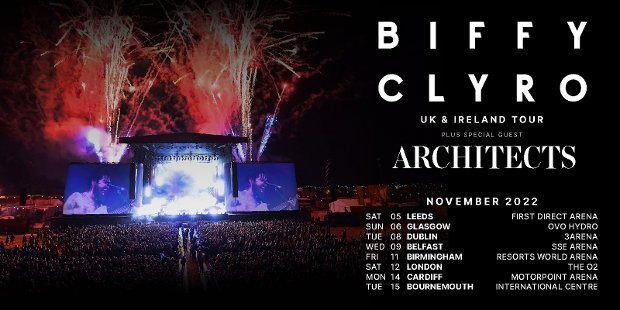 Here's a list of Biffy Clyro's 2022 UK tour dates:
Saturday 25 June – The Big Top at Royal Highland Centre, Edinburgh
Saturday 5 November – First Direct Arena, Leeds
Sunday 6 Glasgow – OVO Hydro, Glasgow
Tuesday 8 November – 3Arena, Dublin
Wednesday 9 November – SSE Arena, Belfast
Friday 11 November – World Resorts Arena, Birmingham
Saturday 12 November – The O2, London
Monday 14 November — Motorpoint Arena, Cardiff
Tuesday 15 November – International Centre, Bournemouth
When do tickets for Biffy Clyro go on sale?
Tickets go on general sale at 9am on Friday 24 June but there's an exclusive presale held from 9am today.
Where can I buy tickets for Biffy Clyro's tour?
Tickets for Biffy Clyro are available from Ticketmaster, AXS and See Tickets.
How much will tickets for the gigs cost?
It's yet to be announced how much tickets will cost but we'll update this section as soon as we know. A maximum of six tickets apply per person and any in excess of six will be cancelled.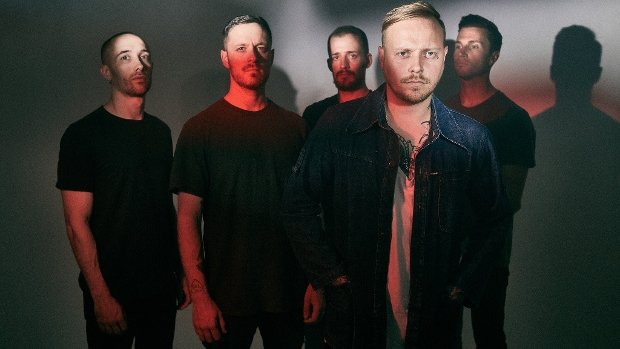 Who'll be supporting Biffy Clyro on tour?
British metalcore group Architects have been drafted to join Biffy on all tour dates. Influenced by hardcore punk and heavy metal and drawing inspiration from groups such as Deftones, Gojira and Slipknot, the outfit have also had a busy last couple of years.
They released their latest album For Those Who Wish To Exist in 2021 with a brand new single 'When We Were Young' following it earlier this year. It's their ninth record since their debut record Nightmares which came out in 2006.
For Those Who Wish To Exist is the group's first chart-topper and includes the popular singles 'Animals' and 'Dead Butterflies'. They've also just released a version recorded at Abbey Road, so it'll be a treat to experience it live in action this November.
What'll be on Biffy Clyro's setlist?
It's hard to know what will be on Biffy's setlist this year as the tour isn't attached to a specific album. It might focus on their most recent record The Myth Of The Happily Ever After which was released in October last year, although the Fingers Crossed Tour came a month afterwards and did a pretty good job of showcasing its contents.
It's possible that it might be a greatest hits shindig to celebrate a big year for the group as Vertigo Of Bliss turned 19 this year and it's also been 15 years since the release of Puzzle. Taking to Twitter to share the news, they hinted that this would be a 'very special tour' - so consider our interest piqued.
Whatever the case, the tour won't be short of hits from an extensive list of number one albums including the Opposites, Ellipsis, A Celebration Of Endings and 2009's Mercury Prize-nominated Only Revolutions.
Watch the trailer for 'Cultural Sons Of Scotland'
What's Biffy Clyro's latest release?
The follow-up to sister record A Celebration Of Endings, last year's The Myth Of The Happily Ever After includes leading singles such as 'Unknown Male 01' and 'Hunger In Your Haunt'. Written in the throes of lockdown, the tumultuous record deals with themes of loss and turmoil.
In February of this year, Amazon Prime released Cultural Sons Of Scotland, an hour-long documentary which explores the making of The Myth Of The Happily Ever After.
How can I guarantee that I'll get tickets?
Though tickets are bound to sell out for the tour, there are a few effective ways to increase the odds of getting your hands on tickets for Biffy Clyro this Friday. Log into your preferred ticketing provider ahead of time, stay patient and make sure you're using a steady internet connection and don't refresh your browser when you're in the queue. To receive a reminder half an hour before tickets go on sale, click the 'I'd love a reminder' button at the bottom of this article.
Tickets for Biffy Clyro go on sale at 9am on Friday 24 June.