This article contains one or more affiliate links. If you follow one of these links, and make a purchase, we receive a commission.
Hairburst hair growth product review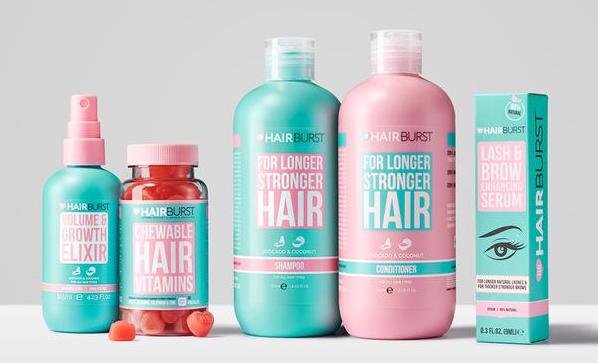 We put some of Hairburst's bestselling hair growth products to the test
Trying to grow out your strands into luscious, healthy Rapunzel-esque locks but finding they aren't budging? Overstyling, stress, poor nutrition, hormones and metabolism are all factors that contribute to hair loss and could be reasons why you're struggling to grow your hair out so much.
Hairburst take all of these factors into account and create expertly formulated products to encourage your hair to stay in its growth phase for longer. Created with qualified chemists, their extensive range of cruelty-free products use a blend of essential vitamins and minerals to nourish your hair and encourage growth.
Anyone with medium length and pin-straight hair like mine will know that it can often run the risk of looking pretty lack-lustre and downright sad after a day or two. I'm always on the hunt for something that will give my strands volume and thickness without having to get the chop. I tried out some of Hairburst's bestsellers to put them to the test and see how they fare with the challenge.
Shampoo & Conditioner for Longer, Stronger Hair
Some of the benefits promised with this duo are visibly thicker and healthier hair, reduced breakage and improvements in shine, density and softness. While the shampoo helps to prevent shedding and hair loss in the shower, the conditioner works to nourish and repair split ends and reduce breakage.
I used the shampoo and conditioner every time my hair needed a wash which worked out every two to three days. The first thing I noticed was how great the products smell, which is a huge plus for me. Avocado and coconut wouldn't usually be a scent that I would gravitate towards but it's lovely and refreshing.
Something I also noticed was that the scent lingers in my hair, even a couple of days after washing. I'm a sucker for a good scent and I've been disappointed with drugstore shampoos in the past as the gorgeous fruity scents that initially drew me in have faded almost instantly.
Even after the first wash, my hair instantly felt heavier and visibly looked thicker. As promised, my locks look and feel silky-soft and much healthier after every wash, so these two are definitely a thumbs-up from me.
Long and Healthy Hair Mask
This mask works to improve shine and softness while controlling frizz and encouraging longer, stronger hair growth by protecting the hair.
I alternated between using the Conditioner for Longer, Stronger Hair and the mask, applying it after shampooing it and leaving it in for about five to ten minutes. It was nice to use and my hair immediately felt super soft, but I didn't notice a huge difference compared to the conditioner which I felt did just as good a job. However, if you're looking for a particularly good condition or struggle with dry ends, this could be a perfect match for you.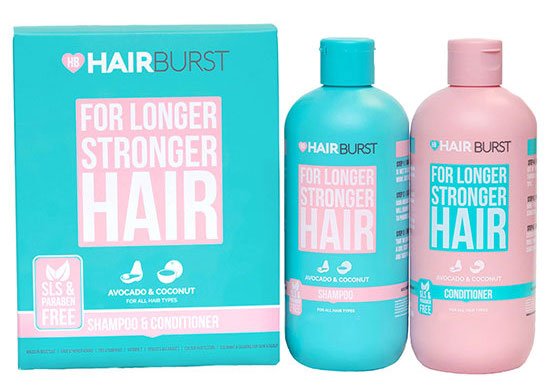 Scalp Stimulating Massage Brush
This little tool is a hand-held massager that increases scalp circulation and stimulation. It works to exfoliate and stimulate the scalp and deeply cleanses the hair.
I'd never used one of these before but now I don't think my hair care routine would be the same without it. With every shampoo I used it for about a minute and it seemed as though I was really deep-cleaning my hair right down to the roots, but it also felt great on my scalp. It encouraged a very satisfying lather from the shampoo and gave my entire head a bit of much-needed TLC.
Volume & Refresh Dry Shampoo
This works to give your hair a little boost in between washes, leaving hair looking longer and thicker while absorbing excess oil.
I had high hopes for this dry shampoo, but I wasn't blown away by it. It did what it says on the tin and added some volume, but I noticed that after an hour or two my hair was right back to looking how it did before. It doesn't leave a white cast or residue which might be a huge bonus for some, but I actually find it useful to see where I'm putting the product. The initial impact is great, but I was slightly disappointed with its longevity.
Overall verdict
If you're looking to revitalise and refresh your locks with some added growth along the way, these are great helpers. I was impressed with how my hair felt immediately after using the shampoo and conditioner and noticed (along with a few of my friends too) that it looked healthier, thicker and shinier which I am delighted with.
It's been about six weeks since I first started using Hairburst and granted, I don't suddenly have hair that's down to my knees. However, it's definitely grown an inch or two and coupled with its new thickness and volume, I'm pretty chuffed with that. I wouldn't herald the products as miracle-workers in terms of hair growth, but they're certainly great boosters with a wealth of other added benefits.
Save 20% across the whole Hairburst site using the code DATATHISTLE.