This article contains one or more affiliate links. If you follow one of these links, and make a purchase, we receive a commission.
Sofar Sounds announce dates for upcoming September 2022 UK shows: tickets on sale now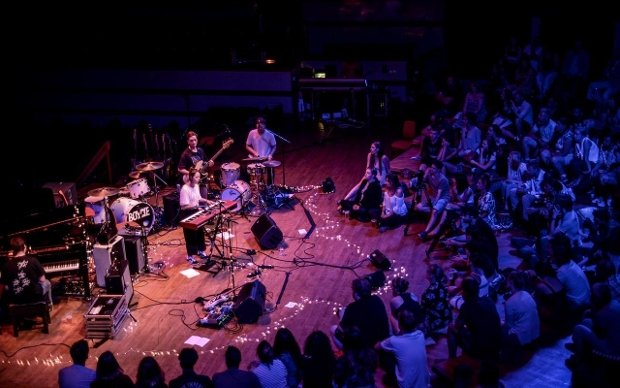 The enterprise will host intimate music gigs in London, Brighton, Glasgow and more next month
Sofar Sounds have announced a huge list of intimate and secret music performances around the UK this August. Tickets are on sale now.
The global music enterprise will host a huge range of shows next month in various UK cities including London, Glasgow, Bristol, Leeds and more. See a selected list of dates and venues below.
Every month Sofar Sounds announces a new list of gigs which take place in everyday spaces like galleries or rooftops which are transformed into intimate spaces for secret live performances. To build anticipation, the specific details of the performances will be announced the day of and guests won't know the performers until they take to the stage.
Prices range from £12 to £24 depending on the location and the performances include two or three short sets from performers from all musical genres. Line-ups sometimes include spoken word, comedy or dance performers and are selected to be as diverse as possible.
Sofar Sounds have hosted some of the biggest names in the music industry such as Leon Bridges, Yebba, Lianne La Havas, Khruangbin, Billie Eilish, Hozier and more. Head to Sofar Sounds to find a concert venue near you.
Sofar Sounds September 2022 dates:
Thursday 1 September – Notting Hill, London
Friday 2 September – Brighton
Saturday 3 September – Barbican, London
Sunday 4 September – Mansion House, London
Monday 5 September – Hoxton, London
Tuesday 6 September – Seven Dials, Brighton
Wednesday 7 September – Bethnal Green, London
Thursday 8 September – Old Town, Edinburgh
Friday 9 September – Kelvinbridge, Glasgow
Saturday 10 September – Kings Cross, London
Sunday 11 September – Clifton, Bristol
Monday 12 September – Camden, London
Tuesday 13 September – London Bridge
Wednesday 14 September – Greenwich, London
Thursday 15 September – Digbeth, Birmingham
Friday 16 September – St Werburghs, Bristol
Saturday 17 September – City Centre, Bristol
Sunday 18 September – Dalston, London
Monday 19 September – Kelvinbridge, Glasgow
Tuesday 20 September – Barbican, London
Wednesday 21 September – Finsbury Park, London
Thursday 22 September – Jewellery Quarter, Birmingham
Friday 23 September – Maida Vale, London
Saturday 24 September – Tottenham, London
Sunday 25 September – Hackney, London
Monday 26 September – Kings Heath, Birmingham
Tuesday 27 September – Angel, London
Wednesday 28 September – Edinburgh
Thursday 29 September – Holbeck, Leeds
Friday 30 September – Waterloo, London
Tickets for Sofar Sounds performances are on sale now.