This article contains one or more affiliate links. If you follow one of these links, and make a purchase, we receive a commission.
Want tickets for Harry Styles' 2023 UK tour dates? Here's everything you need to know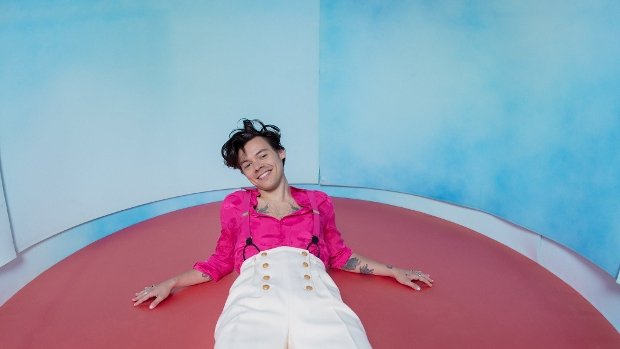 The 'As It Was' singer will continue Love On Tour into 2023 with huge shows in Coventry, Edinburgh, London and more
After a phenomenal run of sell-out arena and stadium shows this year, Harry Styles has made tidal waves with the announcement that Love On Tour will continue into 2023. Whether you've never been able to secure Love On Tour tickets or you're a dedicated follower who refuses to miss a gig, the universe has blessed all Harry fans with another chance to see him in all his fabulous, flare-wearing glory.
The exhilarated shrieks of fans are practically still reverberating throughout Madison Square Garden after his show in New York last night, and it won't be long till the streets in the UK will once again be packed full of cowboy hats, feather boas, pearl necklaces, and fruit-themed garments made out of denim as half of the population make the pilgrimage to see him live.
These shows are guaranteed to sell out in a matter of minutes, so to help you nab tickets we've whipped up this handy guide. Read on to find out when and where Styles is playing, when tickets go on sale, what presales are available, who'll support him on the tour and more. To receive an email reminder half an hour before tickets go on sale, click the 'I'd love a reminder' button at the bottom of this article.
Where and when will Harry Styles be performing in the UK?
The 2023 run of shows will kick off in Coventry at the Building Society Arena on Monday 22 May. Harry will then head to Murrayfield Stadium in Edinburgh on Friday 26 May before performing at London's Wembley Stadium for two consecutive nights on Tuesday 13 and Wednesday 14 June. The UK leg of the tour will wrap up in Cardiff at the Principality Stadium.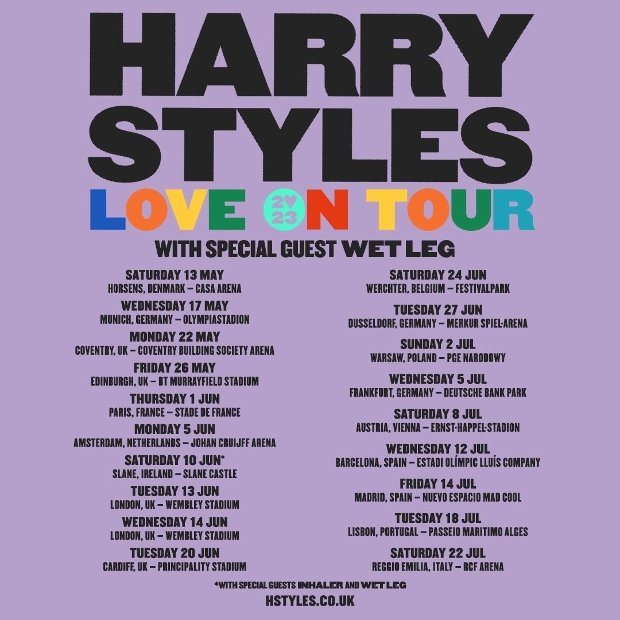 Here's a detailed list of his UK tour dates:
Monday 22 May – Building Society Arena, Coventry
Friday 26 May – Murrayfield Stadium, Edinburgh
Tuesday 13 June – Wembley Stadium, London
Wednesday 14 June – Wembley Stadium, London
Tuesday 20 June – Principality Stadium, Cardiff
When do tickets for Harry Styles go on sale?
Tickets for the 2023 Love On Tour shows go on sale at 10am on Friday 2 September.
There will be a Live Nation presale running from 10am on Thursday 1 September to 9am on Friday 2 September and a Gigs in Scotland presale opening at the same time for the Edinburgh date.
Where can I buy tickets for Harry Styles' tour?
Tickets for all dates on Harry Styles' UK tour are available from Ticketmaster, See Tickets and Live Nation.
How much will tickets for the gigs cost?
The price of tickets for the 2023 dates are yet to be announced, but ranged from around £50 to £80 in the UK for his Love On Tour shows this year, with VIP options costing upwards of £180.
A maximum of six tickets per person applies and tickets in excess of six will be cancelled.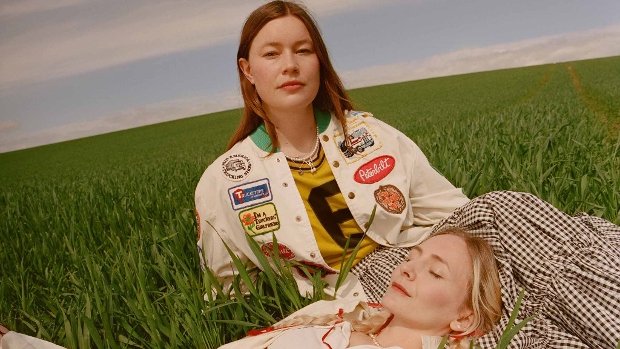 Who'll be supporting Harry Styles on the tour?
British indie-rock duo Wet Leg will be supporting Harry throughout all of the UK dates, fresh from their own tour this winter where they're set for Norwich, Bristol, Liverpool, Glasgow, Leeds, Manchester, Birmingham, London, Nottingham and Belfast. Check out a detailed list of Wet Leg's 2022 UK tour dates.
Their headline tour will support their self-titled debut album which was released in April this year and includes their previously-released singles 'Wet Dream', 'Ur Mum' and 'Angelica'. Rhian Teasdale and Hester Chambers have also confirmed that the follow-up to their debut is already wrapped up and ready to go.
What'll be on Harry's setlist?
Love On Tour comes in support of not one but two albums from Harry's repertoire, meaning that there's a pretty even balance of tracks from both 2019's Fine Line and the Mercury Prize-nominated Harry's House which came out earlier this year.
At his huge Madison Square Garden set last weekend he kicked things off with 'Daydreaming' from Harry's House before picking up the tempo with Fine Line favourite 'Golden'. He also performed a rendition of One Direction's 'What Makes You Beautiful' (Oh he knows exactly what he's doing, doesn't he?)
The only hits from his self-titled debut came during the encore when he performed 'Sign Of The Times', his first ever solo single, and energetic rock anthem 'Kiwi' to wrap up the epic three hour set.
Listen to latest single 'Late Night Talking'
What's his latest release?
The 28-year-old's highly anticipated third album Harry's House was released in May this year and provides a funky, synth-filled contrast to his previous rock-based projects which established him as a sophisticated singer-songwriter trying to shelf his previous boy-band persona.
Introspective, tender ballads like 'Matilda' or 'Little Freak' are weaved in between high-octane tracks like 'Music For A Sushi Restaurant', 'Cinema' and the leading single 'As It Was' which has since surpassed a billion streams on Spotify. The dreamboat popstar has also revealed that he has already started the writing process for his fourth album.
How can I guarantee that I'll get tickets?
Though tickets are bound to sell out for the tour, there are a few effective ways to increase the odds of getting your hands on tickets for Harry Styles this Friday. Log into your preferred ticketing provider ahead of time, stay patient and make sure you're using a steady internet connection and don't refresh your browser when you're in the queue. To receive a reminder half an hour before tickets go on sale, click the 'I'd love a reminder' button at the bottom of this article.
Tickets for Harry Styles' tour go on sale in the UK at 10am on Friday 2 September.