Mary Bedford 'shaken up' after car crash
Bang Showbiz
14 September 2022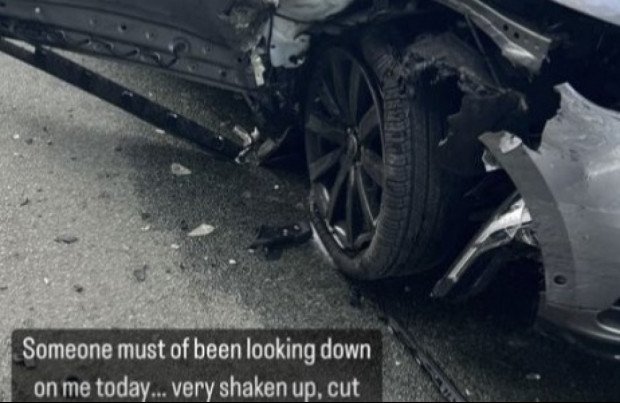 Former 'Love Island' star Mary Bedford has been left "very shaken up", and "cut and bruised" following a car crash
Former 'Love Island' star Mary Bedford has been left "very shaken up" following a car crash.
The 23-year-old influencer took to her Instagram Stories to share a picture of part of her smashed-up motor, and admitted she had been left "cut and bruised" following the collision.
She wrote: "Someone must have been looking down on me today… very shaken up, cut and bruised but so grateful to be back home tonight."
Part of her vehicle's bodywork on the driver's side had clearly been ripped off.
Last year, Mary told how she had landed her "dream car", which is thought to have cost around £50,000.
The star shot to fame on last year's 'Love Island'. She entered the villa at the Casa Amor stage of the ITV2 dating show and was taken back to the main villa by Toby Aromolaran.
But he later resumed his former romance with Chloe Burrows, and she moved on to Sam Jackson, before hooking up with Aaron Simpson.
The pair later went their separate ways outside of the villa, but Mary had admitted beforehand she was looking forward to introducing the footballer to her family and friends.
When asked who she is excited to introduce Aaron to, she said at the time: "My friends. He will love my friends. My friends are so fun!
"I can't wait for him to meet all of them. I've got quite a close group of friends but they are all going to literally love him. And then obviously my mum and stuff, they'll like him."
Mary admitted she and Aaron were "definitely going to give it a go" after leaving the villa.
She said: "It's still proper early days for us. Even though it's only been 10 days it feels like we've been seeing each other for months.
"We said we're definitely going to give it a go on the outside.
"Obviously everything changes when you get out so we said we're just going to cross each bridge as it comes to it.
"We're definitely going to see each other on the outside."