Art Of Banksy set to hit Salford this winter: how to get tickets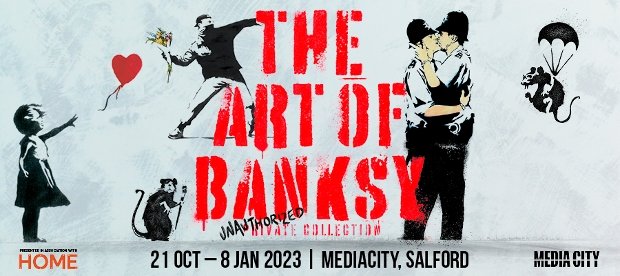 The critically acclaimed exhibition will showcase some of the most iconic pieces from the infamous artist
The Art Of Banksy exhibition will be heading to Media City in Salford this winter. Tickets are on sale now.
The hugely successful show will run from Friday 21 October 2022 to Sunday 8 January 2023 in Media City, Salford. After a year-long run in London and global praise, The Art Of Banksy will exhibit 145 pieces from private collections around the world.
The world's largest touring collection of authenticated Banksy artworks will showcase well-known pieces such as Girl With Balloon (2002), Flower Thrower (2003), Rude Copper (2002) and Brace Yourself (2010) as well as some that have rarely been seen by the public.
The exhibition, already hosted in major cities including Miami, Chicago, Tel Aviv, Auckland and Sydney, will delve into the artist's rise to fame and explore the role of their work in inspiring the public and igniting social change.
Head to Quay Tickets to find out ticket prices and opening times.
The Art Of Banksy 2022-2023 UK tour dates:
Friday 21 October 2022 - Sunday 8 January 2023 – Media City, Salford
Tickets for The Art Of Banksy are on sale now.