This article contains one or more affiliate links. If you follow one of these links, and make a purchase, we receive a commission.
Want tickets for Pink's 2023 UK tour dates? Here's everything you need to know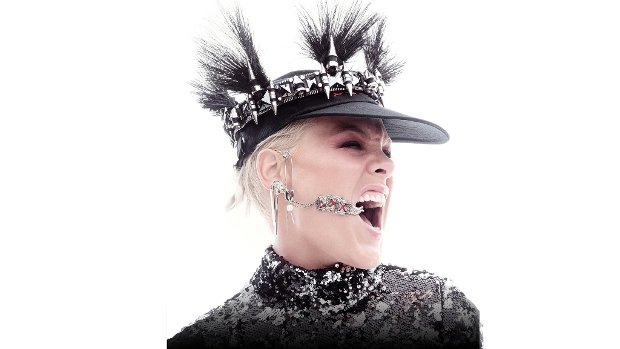 The 'Raise Your Glass' hit-maker is set to perform at stadiums throughout the UK including Bolton, Sunderland and London
For the first time since her Beautiful Trauma World Tour in 2019, the Grammy Award-winning, powerhouse vocalist Pink will head to the UK for a handful of stadium shows next June, including the star-studded BST Hyde Park concert series as part of her Summer Carnival 2023 Tour. She'll be joined my music heavyweights Billy Joel and Bruce Springsteen for the event in London. Check out the full line-up so far.
The announcement comes shortly after her emotional performance at the Taylor Hawkins tribute concert in Los Angeles last month where she was joined by rock and roll legends Queen and Foo Fighters to perform a cover of 'Somebody To Love'. She also gave a rendition of the Foo Fighters hit 'The Pretender' and 'Barracuda' with Heart's Nancy Wilson.
Tonight was special in so many ways. Celebrating Taylor and the Foo Fighters was the why. Look at what happened. music and the community coming together with respect, reverence and love. https://t.co/8BUjlbgEgJ

— P!nk (@Pink) September 28, 2022
These shows are guaranteed to sell out in a matter of minutes, so to help you nab tickets we've whipped up this handy guide. Read on to find out when and where Pink is playing, when tickets go on sale, what presales are available, who'll support her on the tour and more. To receive an email reminder half an hour before tickets go on sale, click the 'I'd love a reminder' button at the bottom of this article.
Where and when will Pink be performing in the UK?
Pink has a long run of UK stadium dates lined up for summer 2023. She'll kick off the Summer Carnival Tour at the University Of Bolton Stadium on Wednesday 7 and Thursday 8 June before heading to Sunderland's Stadium of Light for two consecutive nights. The tour will wrap up with a gig at Villa Park in Birmingham and two slots at the epic BST Hyde Park concert series in London.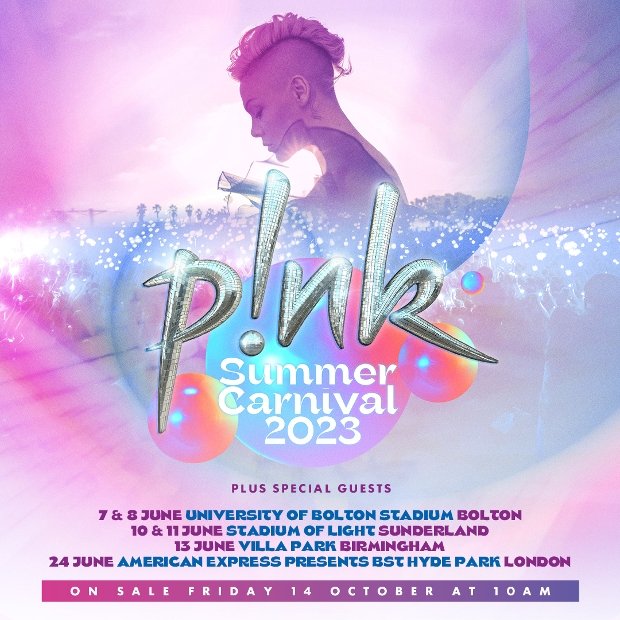 Here's a detailed list of Pink's 2023 UK tour dates:
Wednesday 7 June – University Of Bolton Stadium
Thursday 8 June – University Of Bolton Stadium
Saturday 10 June – Stadium Of Light, Sunderland
Sunday 11 June – Stadium Of Light, Sunderland
Tuesday 13 June – Villa Park, Birmingham
Saturday 24 June – Hyde Park, London
Sunday 25 June – Hyde Park, London
When do tickets for Pink go on sale?
Tickets for Pink go on sale at 10am on Friday 14 October. There's a Ticketmaster presale from 10am on Wednesday 12 October for the stadium shows and presale tickets for the BST Hyde Park gigs are on sale now.
Where can I buy tickets for Pink's tour?
Tickets for all shows are available from Ticketmaster and AXS.
How much will tickets for the gigs cost?
We don't know how much tickets cost for the stadium shows yet, but the BST Hyde Park concert presale tickets are currently priced at £90.45 each. A maximum of six tickets apply and tickets bought in excess of six will be cancelled.
Who'll be supporting Pink on the tour?
Irish rock band The Script, 'ABCDEFU' sensation Gayle and LA producer KidCutUp will support Pink at her Summer Carnival shows in Bolton, Sunderland and Birmingham.
Watch the video for new single 'Irrelevant'
What'll be on Pink's setlist?
To delve into Pink's extensive oeuvre is to look down a bottomless well, endlessly decorated with hits which span throughout the early 2000's and 2010's. She'll be showcasing her incredible versatility as an artist, delighting fans with tracks from her various eras which include tender ballads to pop-punk anthems and club floor-fillers.
The Summer Carnival Tour will take audiences on a journey which goes from attitude-filled and fun sophomore record M!ssundaztood which includes the 21-year-old classic 'Get The Party Started' to the raw and powerful number one record The Truth About Love.
Expect to hear her most-loved classics including 'Stupid Girls', 'Try', 'Raise Your Glass', 'So What', 'Funhouse' and so many more. She'll also perform tracks from her more recent albums including 2019's Hurts 2B Human and 2017's Beautiful Trauma.
There's also a chance that she'll showcase her most recent track as well, charity single 'Irrelevant' which was released earlier this year in response to the Roe v. Wade Supreme Court overturning in a number of American states.
How can I guarantee that I'll get tickets?
Though tickets are bound to sell out for the tour, there are a few effective ways to increase the odds of getting your hands on tickets for Pink this Friday. Log into your preferred ticketing provider ahead of time, stay patient and make sure you're using a steady internet connection and don't refresh your browser when you're in the queue. To receive a reminder half an hour before tickets go on sale, click the 'I'd love a reminder' button at the bottom of this article.
Tickets for Pink go on sale at 9am on Friday 30 September.