This article contains one or more affiliate links. If you follow one of these links, and make a purchase, we receive a commission.
Want tickets to The Who's 2023 UK tour dates? Here's everything you need to know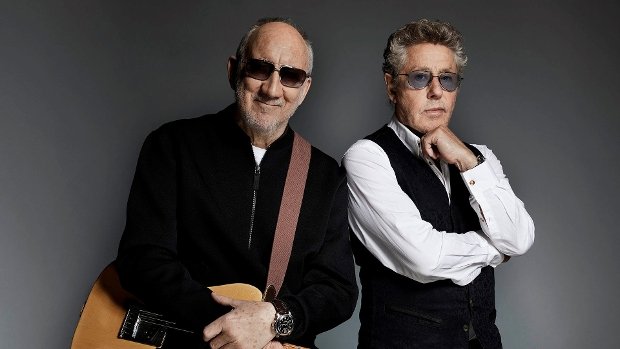 The 'Pinball Wizard' rockers will headline venues in Edinburgh, London and more this July
For the first time in six years, Hall Of Fame royalty and one of history's most successful rock bands The Who will tour the UK. This summer will make history as the Union Jack-clad 'Baba O'Riley' legends will perform at a number of stadiums across the country for The Who Hits Back! Tour, including live appearances in Edinburgh for the first time in decades. The tour will feature The Who's full live band including guitarist and backup singer Simon Townshend, drummer Zak Starkey and orchestra conductor Keith Levenson.
Roger Daltrey and Pete Townshend have also announced the release of brand new The Who With Orchestra Live At Wembley album from their massive show in 2019. The record will add to their impressive 12-album oeuvre which includes their 1965 debut My Generation, 1969's Tommy and 1971's Who's Next, all of which will be performed on the Hits Back! trek.
To help you nab tickets, we've whipped up this handy guide. Read on to find out when and where The Who are playing, when tickets go on sale, what presales are available, who'll support them on the tour, what their latest release is, and more. To receive an email reminder 30 minutes before tickets go on sale, click the 'I'd love a reminder' button at the bottom of this article.
Where and when will The Who be performing in the UK?
The Grammy Award-winning group have lined up nine separate tour dates throughout the summer, including two stops at the stunning Edinburgh Castle on Saturday 8 and Sunday 9 July. This will be the first time the band have performed in Scotland's capital for over 40 years. They're also set to perform at London's O2, Incora County Ground in Derby, the Totally Wicked Stadium in St Helens and more.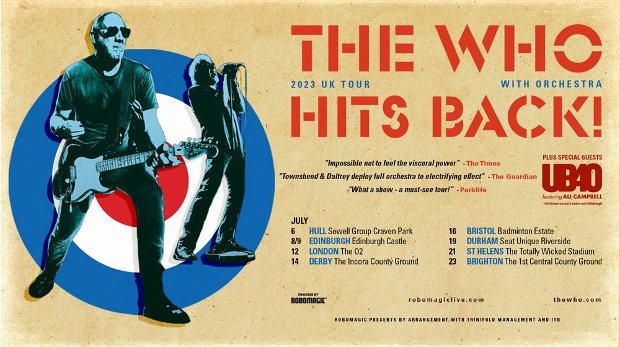 Here's a full list of The Who's UK tour dates:
Thursday 6 July – Craven Park Stadium, Kingston-upon-Hull
Saturday 8 July – Edinburgh Castle
Sunday 9 July – Edinburgh Castle
Wednesday 12 July – The O2, London
Friday 14 July – Incora County Ground, Derby
Sunday 16 July – Badminton Estate, Gloucestershire
Wednesdy 19 July – Seat Unique Riverside, Durham
Friday 21 July – Totally Wicked Stadium, St Helends
Sunday 23 July – 1st Central County Ground, Hove
When do tickets for The Who go on sale?
Tickets for the tour go on general sale at 10am on Friday 3 February. A maximum of six tickets per household applies and any tickets in maximum of six will be cancelled.
Where can I buy tickets for The Who's tour?
Tickets for all dates are available from Ticketmaster, See Tickets and AXS.
How much will tickets for the gigs cost?
Tickets are currently priced from about £70 to £160 for seats on See Tickets.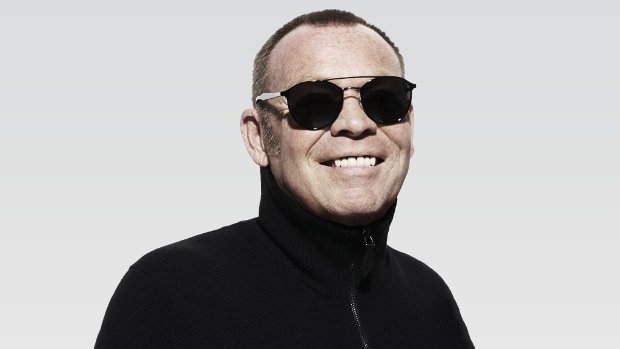 Who'll be supporting The Who on tour?
British pop reggae band UB40 have been announced as support for The Who across all UK tour dates except London and Edinburgh and the performances will feature singer-songwriter and past member Ali Campbell. Campbell left the 'Red Red Wine' group in 2008 and released a number of solo albums after reuniting with former bandmates Astro and Mickey Virtue in 2014 to release the Silhouette record.
Since 1980, UB40 have released 20 studio albums including their debut Signing Off and the most recent record Bigga Baggariddim which came out in 2021. They've lined up their own headline shows in Halifax and Warwick for Sunday 18 and Saturday 24 June respectively and you can grab tickets for the Warwick show at 10am on Friday 3 February.
Listen to timeless hit 'Red Red Wine'
What'll be on The Who's setlist?
The epic shows will showcase an endless list of hits from throughout the last 50 years of The Who's glittering career. Accompanied by an orchestra, the outfit will run through eternal bangers such as 'Baba O'Riley', 'Pinball Wizard', 'Behind Blue Eyes', 'My Generation' and 'Won't Get Fooled Again'.
While they've got a lot of material to squeeze into each set, they'll find time to perform tracks from their most recent release WHO which came out in 2019 and features the popular tracks 'All This Music Must Fade' and 'Ball And Chain'. The group embarked on their Moving On! Tour in 2019 to celebrate the album's release, hitting Wembley Stadium with support from Kaiser Chiefs, Imelda May and Eddie Vedder.
Revisit the epic single 'Baba O'Riley'
When will The Who release their next album?
Along with news of the 2023 UK tour dates, the duo have also announced upcoming album The Who With Orchestra Live At Wembley which is available for preorder now. The album was recorded at the 2019 Wembley Arena show as part of the Moving On! Tour and will release on Friday 31 March in limited edition coloured vinyl 3-LP.
How can I guarantee that I'll get tickets?
There are a few effective ways to increase the odds of getting your hands on tickets for The Who this Friday: don't refresh your browser when you're in the queue, log into your preferred ticketing provider ahead of time, stay patient and make sure you're using a steady internet connection. To receive a reminder 30 minutes before tickets go on sale, click the 'I'd love a reminder' button at the bottom of this article.
Tickets for The Who's 2023 UK tour go on sale at 10am on Friday 3 February.