EastEnders' Kellie Bright reveals cast filmed 2 flash forward scenes
Bang Showbiz
21 February 2023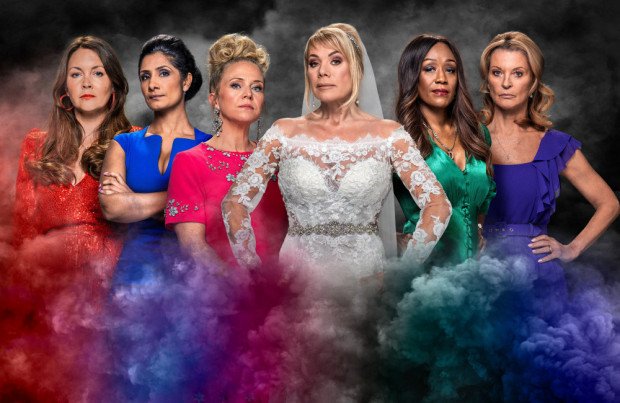 'EastEnders' actress Kellie Bright has told how the cast only found out in last night's (20.02.23) episode that a male character is going to die at Christmas after they filmed two different flash-forward scenes, with one involving a female character
'EastEnders' star Kellie Bright has revealed the cast only found out in last night's (20.02.23) episode that a male character is going to die at Christmas, after they filmed two different flash-forward scenes.
The 46-year-old star's character Linda Carter is one of six of Walford's much-loved matriarchs, Denise (Diane Parish), Kathy (Gillian Taylforth), Sharon (Letitia Dean), Stacey (Lacey Turner) and Suki (Balvinder Sopal) who appeared in the scene, which zoomed forward to Christmas 2023.
It saw Sharon check the pulse of a body on the floor before declaring: "He's dead."
Kellie said: "Someone's dead on the floor, we had a stand-in, a body double, if you like, come in.
"When we filmed it, they made Tish [Letitia Dean] film it two ways – a 'he's dead' and a 'she's dead'. So watching it last night was really the first time that I was like, 'Oh it is a man.'
"There'll be lots of red herrings."
Kellie also pointed out that her character Linda has a split lip in the scene.
She said: "One of the things that you can't really see on that is that I had a split lip.
"I don't know why, or how I've ended up with a split lip."
The sextet have already started a WhatsApp group to discuss their theories.
Asked on 'This Morning' if they had started a WhatsApp group, she added: "We have, yeah."
The episode will act as a catalyst for major storylines involving each of the characters that will play out over the year.
Executive Producer Chris Clenshaw has urged viewers to re-watch the flash forward scene and look closely for clues.
He said: "I'm not going to give anything away that the episode hasn't already given, but what I will say is there were clues in there. Did you look closely?
"I urge everyone to re-watch the scene and look at every detail. There's also a few treats in the scene if you look hard enough.
"What I'd also say is that a lot can happen in Walford between February and December – circumstances can change, relationships can change, loyalties can change – so what you may suspect now could be somewhat different as we make our way through 2023 and head towards Christmas."