Bob Mortimer and Paul Whitehouse land two more series of Gone Fishing
Bang Showbiz
1 March 2023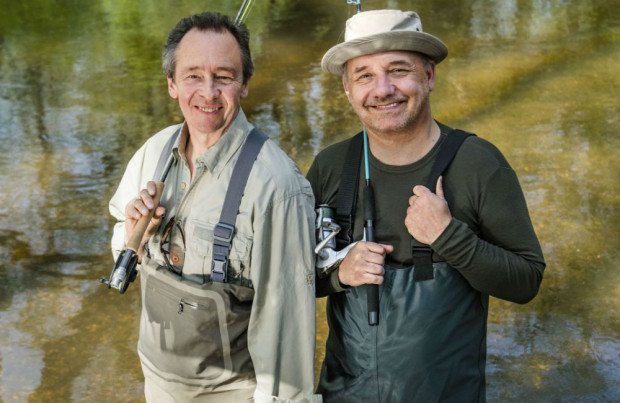 Bob Mortimer and Paul Whitehouse are doing two more series of 'Gone Fishing' on BBC Two amid working on other projects like 'The Glove' and West End shows
Bob Mortimer and Paul Whitehouse have signed up for two more series of 'Gone Fishing'.
The BBC Two programme follows the ex 'Shooting Stars' comedian, 63, and the 'Fast Show' alum, 64, as they take it easy and discuss life while angling around the Great British countryside.
The show's official Twitter posted: "We're coming back, again and again."
According to reports, the first of the newly ordered installments will arrive on screens later this year and the other will come sometime in 2024.
As quoted by the Daily Star newspaper, commissioning editor Max Gogarty added: "We are delighted 'Gone Fishing' will be coming back.
"This show brings a huge amount of joy, catharsis and escapism to millions each week, and we're thrilled the boys will be back."
Some of the destinations they will explore have already been shared as they touch on all four of the UK's home nations, with locations including the country's oldest pub, while they will also set up camp next to a lake brimming with carp.
Fan favourite pooch Ted – who often appears alongside Bob and Paul – will celebrate a birthday on the show as they drop their lines in spots from Wales, Shropshire, Wiltshire, the Scottish Borders and Devon.
During their last Christmas special, the pair travelled all the way to Norway to test some Scandi waters.
Along with this beloved series, Paul has been treading the boards in the West End musical version of 'Only Fools and Horses' and Bob has been working on other projects like 'The Glove', a comedy film with his long time collaborator Vic Reeves that has been in production since 2018.
A description for the flick reads: "'The Glove' is a comedy road movie about two best friends in search of a mythical training glove. Vic and Bob are childhood friends who own a junk shop together where they both work and live. Profits are down and with their futures in jeopardy, they approach their obnoxious landlord to explain their 'rent' problems.
"Rather than helping them, the unsavoury character gives them a choice: eviction, or locate for him a rare and unusual item... What follows is a madcap road movie across Britain as they enter the world of strange collectables and celebrity memorabilia in search of the elusive glove."