Seann Walsh missed his pooch more than his girlfriend on I'm A Celeb
Bang Showbiz
6 March 2023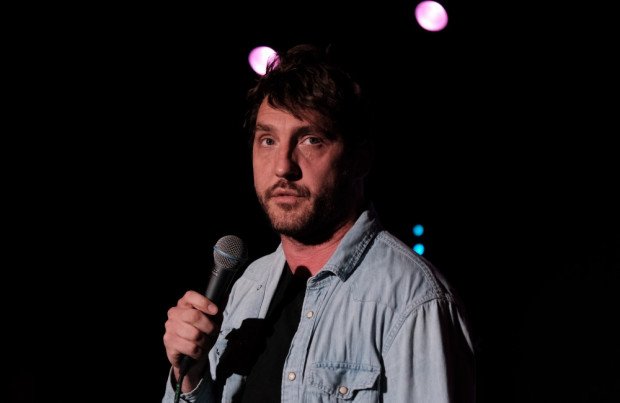 Seann Walsh's girlfriend was pregnant with their baby daughter at the time
Seann Walsh has confessed he missed his beloved pet pooch more than his girlfriend on 'I'm A Celebrity... Get Me Out of Here!'.
The former 'Mock The Week' star was more gutted to leave his dog Mildred to head into the Australian camp for the ITV reality show than his then-pregnant girlfriend Grace Adderley.
The 37-year-old stand-up comic said on his podcast 'Oh My Dog!': "I genuinely missed her. In the Bush Telegraph, I tried to talk to Mildred in the voice I use, hoping it would get in the edit. But obviously, the content just wasn't up to scratch."
Seann admitted leaving his hound to appear on the show alongside disgraced politician Matt Hancock, radio DJ Chris Moyles, broadcaster Charlene White and eventual winner and Lioness legend Jill Scott was the worst part.
He said: "It kills me. You can't reassure them you're coming back."
Last month, the 'Live At the Apollo' star revealed that he and his partner had named their newborn daughter something "posh", blessing her with the moniker Wylda Primrose.
Seann wrote on Instagram: "I'm really hoping she's posher than us. Can you tell?
"Can't wait until the day she makes me take these down."
Seann also gave an update on Grace's health, saying she was "better".
He continued: "Aaaaaaand breathe."
This came after Seann announced the birth of his daughter while he was in "the very relaxing postnatal department".
He said: "Grace has had our baby and I'm sat here in the very relaxing postnatal department, and the staff have been great. The nurses have been coming up to me all morning and congratulating me."
During his time on 'I'm A Celeb', Seann addressed his infamous kiss with his 'Strictly Come Dancing' partner Katya Jones in 2018 that made the front page while he was in a long-term relationship with actress Rebecca Humphries.
He said: "Me and my dance partner – who was married and I was in a relationship – were photographed kissing when we were on Strictly Come Dancing. Not during the show.
"To be totally honest to you, my poor girlfriend at the time posted a statement and that was the end of me."