Robbie Williams' electronic group Lufthaus 'to release debut album'
Bang Showbiz
9 March 2023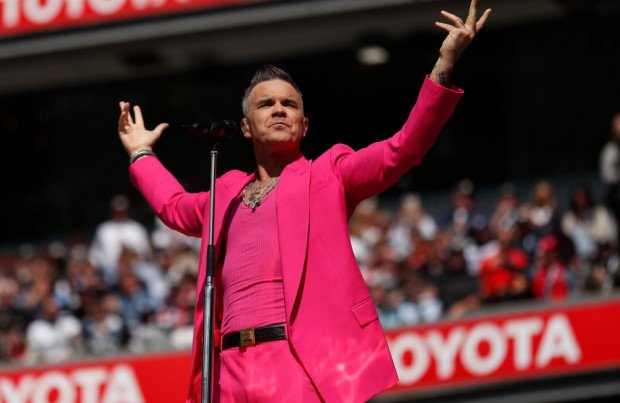 Robbie Williams' electronic group Lufthaus, which he is in alongside Tim Metcalfe and Flynn Francis, are expected to release their debut album this autumn
Robbie Williams' electronic group Lufthaus are set to release their debut album.
The 49-year-old singer is in the dance band with Tim Metcalfe and Flynn Francis, and the trio are expected to drop an LP this autumn.
A source told The Sun newspaper's Bizarre column: "The album will be out in the autumn. It is a momentous time for Robbie, Tim and Flynn.
"This is a real passion project for Rob and he has loved being able to create new music which is the polar opposite of his back catalogue.
"Lufthaus are ready to make their mark on the dance music industry and Robbie thinks the group can go far."
Tim and Flynn have been opening up for Robbie as Lufthaus on his solo tour, and the group – who have already released songs 'Sway' and 'Unlovable' – are said to have gone down well with supporters.
The source added: "Tim and Robbie are performing as Lufthaus ahead of Robbie's solo set on his tour and the reception has been incredible."
In January, Robbie admitted he had "a vault" of new Lufthaus songs, but he wasn't sure at the time if the band would drop an album.
He said at the time: "I have got two albums coming out pretty soon.
"I have a vault of new Lufthaus stuff. I could do three albums of it as Robbie Williams but new stuff gets written and you get excited about that. I want to put an album out before the summer
"I am not sure if there will be a Lufthaus album. We (Lufthaus) did Ibiza and everybody goes mad and the DJ said, 'They love us mate.' We are trying to figure out what live entity Lufthaus is.
"I would like to do a 'Rudebox 2' (as well) but I change with the wind."