Niall Horan's Heaven is being covered by rising boy band Here At Last
Bang Showbiz
19 April 2023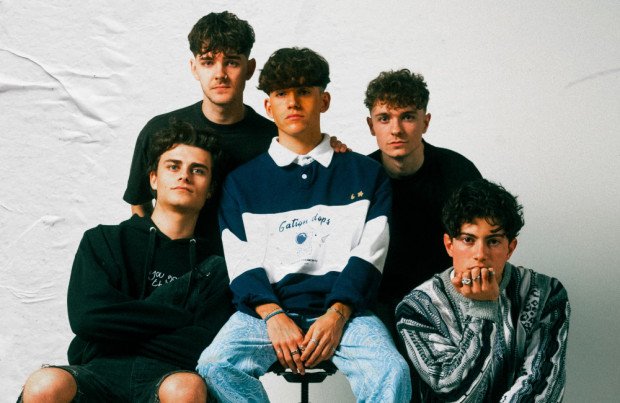 Niall Horan's tune 'Heaven' has been turned into a ballad by the newcomers
Rising boy band Here At Last are releasing a stripped-back cover of Niall Horan's solo tune 'Heaven'.
The popular five-piece – comprising Zach Loizou, Tommy Lyon, Pedro Santos, James Thomas and Ryan Burns – have put their own spin on the former One Direction star's latest track and will unleash it on Friday (21.04.23), along with a re-release of their original tune 'Tongue'.
In a statement, the group said: "When we heard Niall Horan's single Heaven, we knew we had to make a cover of it. We have slightly slowed it down into more of a ballad which allowed us to play around with the vocals a little. With this, we are re-releasing 'Tongue' and as it is a fan favourite, we are excited to see people go back and listen to what started our careers."
The cover news comes with the announcement that HAL will embark on a UK tour this October.
They will kick off the 'Happy You're Here' UK Tour in Glasgow on October 20, before visiting Birmingham, Manchester and Bristol, and wrapping on October 25 at IndigO2 in London.
The band – who sold out their last tour, which included a stop at London's Shepherd's Bush Empire earlier this year – commented: "The 'Happy You're Here' Tour has been so anticipated ever since our show at Shepherd's Bush Empire in February. We had the best time and can't explain how excited we are to get on the road again. We will be going to cities we haven't been to yet including Birmingham and Glasgow. The idea behind our tour name was to emphasise the fact that without the fans travelling to shows and showing us support online that none of this could be possible. We are incredibly grateful for all their support and this will can't wait to give them the best show yet."
Tickets go on general sale on Friday 28th April from LiveNation.co.uk. They will also be available from O2 Priority pre-sale from the 26th April and a Live Nation pre-sale from the 27th April.
Within a few years of forming, Here At Last have attracted three million followers on TikTok and 100 million likes.