Karen Gillan in 'denial' about Guardians of the Galaxy ending
Bang Showbiz
28 April 2023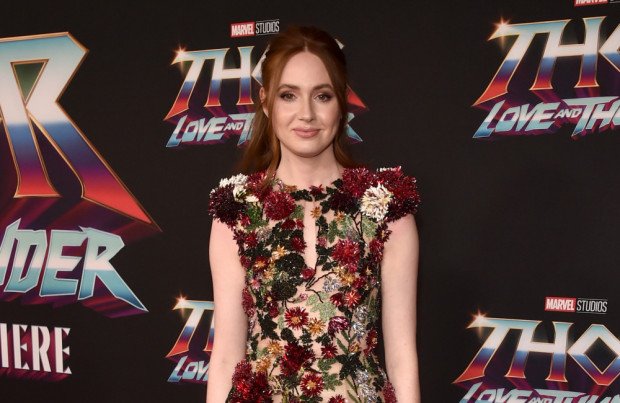 Karen Gillan is heartbroken that the 'Guardians of the Galaxy' franchise is ending following 'Guardians of the Galaxy Vol. 3'
Karen Gillan is in "denial" about the end of the 'Guardians of the Galaxy' franchise.
The 35-year-old actress is reprising her role as Nebula in the new Marvel Cinematic Universe (MCU) blockbuster 'Guardians of the Galaxy Vol. 3' and finds it "bittersweet" to be bidding farewell to the series.
Speaking to Digital Spy, Karen said: "I was holding on to a fair amount of denial. I don't want it to be over, I'm too sad to say goodbye, but every time we do one of these, it starts to become more real.
"This movie is about to be released to the world and then that's it, and it's amazing but it's bittersweet and sad and it's all of the emotions."
Pom Klementieff, who plays the role of Mantis, added: "It feels sad, but I feel very grateful to have been able to experience this rollercoaster of emotions with the cast and (filmmaker) James (Gunn) and to play with these really unique and fun and strong and amazing characters."
The movie features a one-take action sequence and Karen was "terrified" of making a mistake in the scene as she knew she would collide with the cameraman if she did so.
The 'Gunpowder Milkshake' star said: "We went into with the knowledge that we had to get this all right in one take, so the pressure was on.
"It was always really intricate because I had to do all these moves, but I had to be in the exact right position because the cameraman was on wires and I would do my move and then he would fly up and over me. If I was in the wrong place, he was going to collide with me and so I just remember looking terrified before every take."
Read the full interviews with the 'Guardians of the Galaxy' cast on the Digital Spy website via https://www.digitalspy.com/movies/a43698090/guardians-galaxy-3-karen-gillan-ending/