Good Omens season two is hitting screens 'this summer'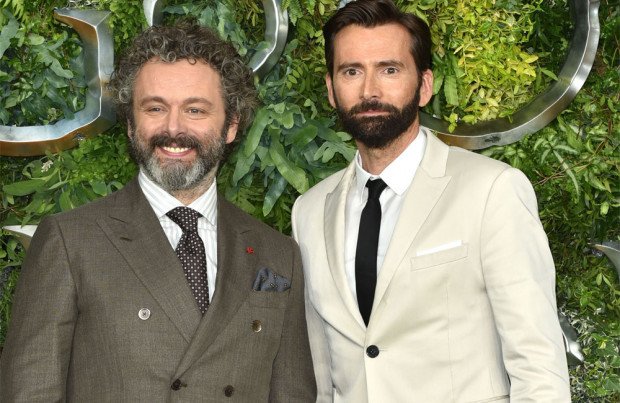 David Tennant and Michael Sheen will be back as demon Crowley and angel Aziraphale
The second season of 'Good Omens' is "done and dusted".
The hit Amazon Prime and BBC Two fantasy drama series will return for another series "this summer".
The show's scribe Neil Gaiman made the announcement while sharing that he was taking part in a nationwide strike as he's a member of the Writer's Guild of America.
Responding to a follower, he said: "Good Omens Season 2 will be out this summer. It's all done and dusted."
He tweeted: "I'm in the Writers Guild of America. I wish this wasn't happening and support it absolutely. When I wake up tomorrow I'll be on strike. (To forestall the inevitable questions, Good Omens 2 is completed and handed in. Although I may not be able to promote it as I had hoped.)."
David Tennant and Michael Sheen are poised to make a return as Crowley and Aziraphale.
And the former's brother Ty Tennant and his father-in-law Peter Davison have also been cast as Ennon and Alistair, respectively.
A source told The Sun newspaper's Bizarre TV column in 2021: "The novel and the show gained a real cult following, so devotees will be thrilled to learn about this sequel.
"Although the first series covered the entire 'Good Omens' book, the creators will continue the plot well beyond the story originally penned by Sir Terry.
"But it's a technique that's well used in TV and has proved immensely popular in the past, so long as the creators manage to continue the spirit of the original."
Despite the show's success, Amazon was initially hesitant about casting David as the demon Crowley.
However, Neil – who originally cast Michael in the role – ultimately managed to convince the studio.
He said: "I just suddenly thought, 'Actually, David Tennant could do this.' It was a lovely, simple idea, and then it didn't leave ... [But] it was harder to get Amazon to sign up on David Tennant. The people at Amazon didn't quite get why I wanted David.
"I knew that it would work. It finally came down to ... you know, it would have been a day before David had to go off and do another movie. I phoned Amazon, and I said, 'You have to say yes, because I don't have a number two. There's nobody else I want. So you have to say yes.'
"And they said yes. Fairly shortly after that, once they saw him acting, they were really apologetic about keeping us waiting."
'Good Omens' told the story of how the demon Crowley and angel Aziraphale battle between Heaven and Hell to prevent the coming of the antichrist.
It's based on the 1990 novel of the same name, which was penned by the late Terry Pratchett and Neil.
There is not a second book, so it's currently unknown where the tale will go next.