Late folk-pop legend Gordon Lightfoot's final album is arriving in July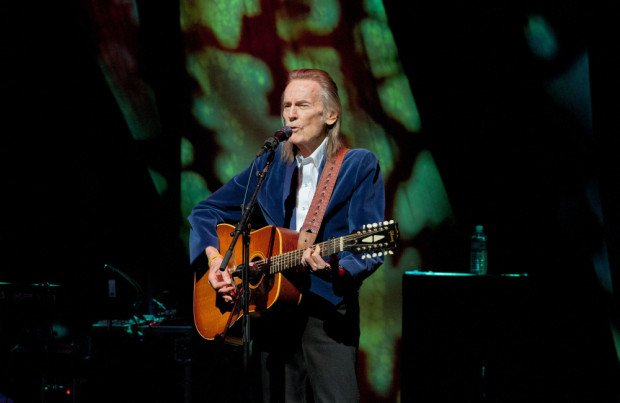 Gordon Lightfoot was a seminal musician adored by music greats including Bob Dylan
The late Canadian folk-pop legend Gordon Lightfoot's last album will be released on July 14.
The seminal artist passed away at Sunnybrook Health Sciences Centre in Toronto on May 1, aged 84, his publicist Victoria Lord confirmed.
Gordon's death came after his declining health caused him to axe his tour three weeks earlier.
And now, his last release, the double live album 'At Royal Albert Hall', recorded at his seventh concert at the famed London venue in 2016, has been announced.
It includes the hits 'If You Could Read My Mind', 'The Wreck of the Edmund Fitzgerald', and 'Early Morning Rain'.
Fans can expect "an unembellished live mix of that nights' performance, without edits, overdubs, remixing or re-sequencing. It captures every song performed in the order they were played, right down to the encore."
Gordon died of natural causes.
However, the guitarist suffered from Bell's palsy and was once placed in a coma in 2002 after an artery in his stomach ruptured.
Adored by music legends, including Bob Dylan, Gordon's songs were also covered by the likes of Elvis Presley, Barbra Streisand, Johnny Cash, and even punk rockers Jane's Addiction.
Fellow Canadian Bryan Adams led tributes to the man who pioneered the folk-pop sound of the 1960s and 1970s.
He wrote on Instagram alongside a picture with his idol: "This one is really hard to write. Once in a blue moon you get to work and hang out with one of the people you admired when you were growing up. I was lucky enough to say Gordon was my friend and I'm gutted to know he's gone. The world is a lesser place without him. I know I speak for all Canadians when I say: thank you for the songs, Gordon Lightfoot. Bless your sweet songwriting heart, RIP dear friend."
Bob Dylan once said of Gordon: "I can't think of any Gordon Lightfoot song I don't like. Every time I hear a song of his, it's like I wish it would last forever ... Lightfoot became a mentor for a long time. I think he probably still is to this day."