Thirty Seconds to Mars' new album is going to surprise fans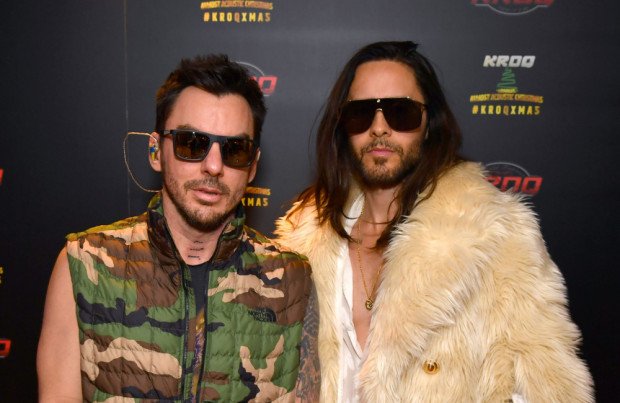 Frontman Jared Leto has revealed they've switched up their sound again
Jared Leto has warned fans that Thirty Seconds to Mars' comeback album will be "surprising" to them.
The brother duo – also including Shannon Leto – will return with their first studio effort in five years, 'It's The End Of The World But It's A Beautiful Day', in September, and the 'House of Gucci' star has revealed they went in a whole new direction on the follow-up to 2018's 'America'.
He's quoted by The Sun newspaper's Bizarre column as telling an Australian radio station: "Sometimes you pick up a guitar, sit in front of the piano or the computer, or talk to your brother, and an idea comes out that may even surprise you.
"I think a lot of this album is going to be surprising to people who may have heard Thirty Seconds to Mars before.
"It feels like a new beginning for us – it feels like a brand new band."
Jared, 51, also admitted he can't be an actor and singer, simultaneously, for much longer and needs to take a break.
The 'Suicide Squad' star said: "If I don't do that eventually, my body just says, 'f*** you'.
"I deal with some back issues and other things and when I'm pushing too hard and not giving myself any balance, eventually your body will say, 'stop'."
The band recently announced the album news alongside the video for the lead single 'Stuck'.
Jared – who directed the promo – said in a statement: "Thanks to my incredibly creative mother, my brother and I were instilled with a love for art and photography from a very young age.
"The video for STUCK, our first new song in five years, is a love letter to some of my favorite photographers.
"Artists who made a very deep impact on me like Richard Avedon, Irving Penn, Robert Mapplethorpe, Diane Arbus, Herb Ritts and more."
Jared described the video as a "love letter to the power of movement and connection".
He added: "The video for STUCK is very much a companion piece and a continuation of a journey started with 'Up In The Air', a celebration of art, design, fashion, and the remarkable people who bring them to life.
"It is a love letter to the power of movement and connection, a testament to the awe-inspiring potential of people who don't necessarily fit so neatly in – but make the world so much more fascinating."
'It's The End Of The World But It's A Beautiful Day' tracklist
1. 'Stuck'
2. 'Life is Beautiful'
3. 'Seasons'
4. 'Get Up Kid'
5. 'Love These Days'
6. 'World On Fire'
7. '7 to 1'
8. 'Never Not Love You'
9. 'Midnight Prayer'
10. 'Lost These Days'
11. 'Avalanche'