Eamonn Holmes: Phillip Schofield's former young lover needs 'duty of care'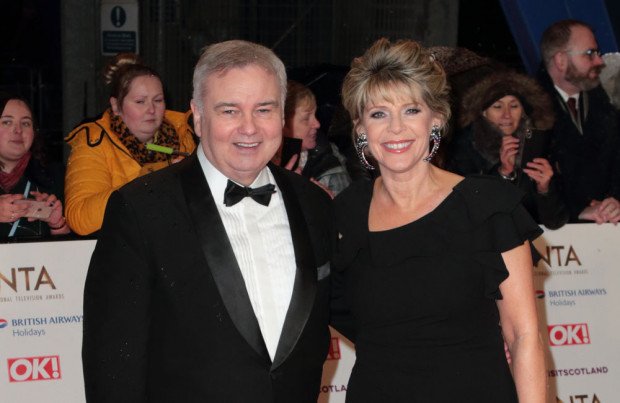 Ruth Langsford is still in touch with Phillip Schofield's former young lover
Phillip Schofield's former young lover is having a "tough" time, according to Eamonn Holmes.
The 63-year-old TV presenter previously co-hosted ITV's 'This Morning' alongside his wife Ruth Langsford, and after Phil quit the brunchtime show earlier this month, after lying about an affair he had with a "younger male" colleague, Eamonn has revealed he and his other half comforted the unnamed man who is going through hell amid the controversy.
Appearing on 'GB News', he said: "Ruth is still in touch with Phillip's young lover – life is tough for him."
Eamonn continued: "Phillip's young lover would seek comfort from me and Ruth – he felt alone [and] in a bad way.
"Ruth and I particularly looked after him, he never once talked to us about any relationship, but we knew he was in a bad way.
"There's an incredible duty of care that needs to go towards that young man."
During his interview with Dan Wootton, Eamonn said he believes Holly Willoughby should follow Phillip "out the door" of the show.
He said: "Not only should Phillip go, but Holly should follow him out the door.
"I don't think you'll ever see Holly back on the couch again."
In a confessional statement, Phillip told the Daily Mail newspaper: "I am making this statement via the Daily Mail to whom I have already apologised personally for misleading, through my lawyer who I also misled, about a story which they wanted to write about me a few days ago.
"The first thing I want to say is: I am deeply sorry for having lied to them, and to many others about a relationship that I had with someone working on 'This Morning'.
"I did have a consensual on-off relationship with a younger male colleague at 'This Morning'.
"Contrary to speculation, whilst I met the man when he was a teenager and was asked to help him to get into television, it was only after he started to work on the show that it became more than just a friendship.
"That relationship was unwise, but not illegal. It is now over."
Holly – who co-hosted 'This Morning' alongside Phillip for 14 years – then claimed he "directly" lied to her about the affair with their colleague.
She wrote on Instagram: "It has taken time to process yesterday's news.
"When reports of this friendship first surfaced, I asked Phil directly if this was true and was told it was not.
"It's been very hurtful to now find out this was a lie."
ITV confirmed on Saturday (27.05.23) they had investigated claims of an affair between Phillip and his colleague, but both had denied it after rumours about the relationship first emerged in 2020.
A spokesperson for the broadcaster said: "Further to our statement last night, ITV can confirm that when rumours of a relationship between Phillip Schofield and an employee of ITV first began to circulate in early 2020 ITV investigated.
"Both parties were questioned and both categorically and repeatedly denied the rumours as did Phillip's then agency YMU.
"In addition, ITV spoke to a number of people who worked on 'This Morning' and were not provided with, and did not find, any evidence of a relationship beyond hearsay and rumour.
"Phillip's statement yesterday reveals that he lied to people at ITV, from senior management to fellow presenters, to YMU, to the media and to others over this relationship."