'We feel used!' Eamonn Holmes and Ruth Langsford 'embarrassed' over Schofield 'cover-up'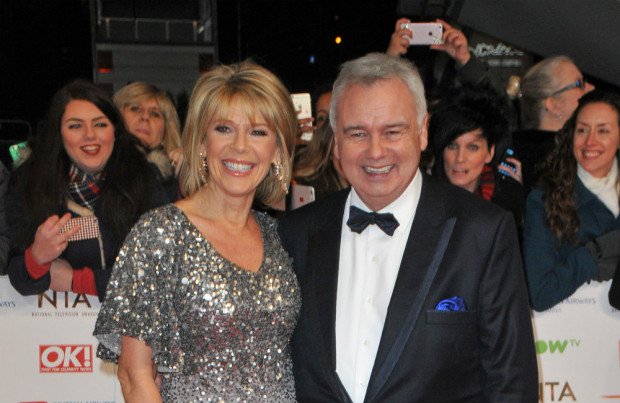 Eamonn Holmes and Ruth Langsford feel "embarrassed" about having to help Phillip Schofield come out as gay on 'This Morning.'
Eamonn Holmes and Ruth Langsford feel "embarrassed" about having to help Phillip Schofield come out as gay as "cover-up" on 'This Morning.'
The married presenting duo had been due to present their usual Friday slot of the daytime magazine show in February 2020 when they were alerted that regular presenters Phillip Schofield – who recently quit his role after 20 years before admitting that he had had an affair with a younger male colleague – and Holly Willoughby would be appearing that day to make an on-air announcement.
Speaking on GB News' 'Dan Wooton Tonight', he said: "So I'm driving in and they say 'Phillip will be arriving to appear on the programme today' and I said 'Oh why' and they said 'We can't tell you. Holly will be coming in as well. You will be hosting bits of the programme but they have got something to say.'
"He comes into our dressing room and falls down on his knees crying. He cries 'I'm gay!' and I said 'Is that all?!' I stood him up and said 'What are you talking about? So you're gay?' We were very supportive, Ruth hugged him and we said we'd stand by him so it wouldn't enter our mind that he would be discriminated against. We were very supportive.
Oh boy, were we used! We went to the studio and Miss Holly took over with a prepared statement.
"Holly, who is supposed to be dyslexic, she read this incredibly long statement very very well."
Eamonn – who left his role at 'This Morning' in November 2020 whilst Ruth continues to anchor fellow ITV Daytime show 'Loose Women' on a regular basis – went on to claim that bosses of the show wanted to prepare a statement for Ruth to read out on air but she declined and in light of recent revelations now admitted that he and his wife still feel "ashamed" when they see pictures from that day in 2020 as he claimed that ITV had staged the whole thing as a "cover-up" for Phillip's affair when so many are "tortured by their coming out.
So they knew in advance, they're the same agents as we are but we were not informed of this in advance so we are taken for fools. And Ruth is constantly asked by Emma Gormley, the director of daytime and Martin Frizell the editor of the programe 'Right, do you want us to write something for you?' So we began to feel there was a certain line being patted here, Ruth adlibbed without any autocue or anything. I don't say anything in the opener. Ruth says what she has to say and then it goes to those two. Knowing how false they are, I'm sure it was rehearsed for days."
"Ruth and I, to this day, are embarrassed and ashamed when we see those pictures. We see people who are tortured by their sexuality and what they have to go through, and this man used it as a cover-up for something else that doesn't reflect well on him. We feel angry about that. We feel used."
Last week, Phillip – who has daughters Molly, 30, and Ruby, 27, with estranged wife Stephanie Lowe – recently explained he was "deeply sorry" for lying but insisted that his relationship with his colleague was "unwise but not illegal."
In a confessional statement, Phillip told the Daily Mail newspaper: "I am making this statement via the Daily Mail to whom I have already apologised personally for misleading, through my lawyer who I also misled, about a story which they wanted to write about me a few days ago.
"The first thing I want to say is: I am deeply sorry for having lied to them, and to many others about a relationship that I had with someone working on 'This Morning'.
"I did have a consensual on-off relationship with a younger male colleague at 'This Morning'.
"Contrary to speculation, whilst I met the man when he was a teenager and was asked to help him to get into television, it was only after he started to work on the show that it became more than just a friendship.
"That relationship was unwise, but not illegal. It is now over."