'I didn't love them': Nicki Minaj passed on a 'couple' songs before agreeing to Barbie World
Bang Showbiz
10 July 2023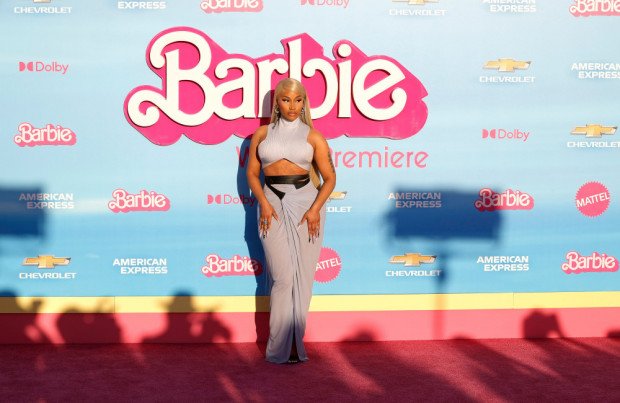 Nicki Minaj passed on a couple of potential songs before recording 'Barbie World'
Nicki Minaj admits she was sent a "couple" of songs for the 'Barbie' soundtrack that she "didn't love" before recording 'Barbie World' with Ice Spice.
The 40-year-old rapper – who calls her fans Barbz – "jumped" at the chance to record the song for the 2023 movie based on the Mattel doll and just wanted a "dope drum" beat with the sample of Aqua's 'Barbie Girl'.
Speaking to 'Entertainment Tonight' at the flick's world premiere at Los Angeles' Shrine Auditorium and Expo Hall on Sunday (09.07.23), she said: "There were a couple of songs that I didn't love. And then there was another song, well this 'Barbie' sample, I loved it I just wanted it to have a dope drum. And the one they sent me I loved, and I jumped on it right away."
Nicki Minaj admits it's a "full-circle moment" for her to be a part of the movie.
She said: "I'm so excited to be here and be part of this entire moment.
"I've been saying Barbie my whole career so it's a very full-circle moment for me."
Margot Robbie, who is playing the main Barbie in the live-action flick alongside Ryan Gosling's Ken, got to meet the 'Anaconda' hitmaker on the pink carpet for the first time.
The 33-year-old actress gushed to Variety: "Oh my god, that was iconic. I'm dying.
"I'm gonna have to take a minute later to be like, 'Wow, I actually just got a picture with Nicki Minaj."
Meanwhile, Ice Spice, 23, recently revealed she has become close friends with fellow rap star Nicki and "loves" to be able to talk to the 'Super Bass' hitmaker about things she cannot talk about when the cameras are on.
She told The Guardian: "She be telling me to learn from her mistakes – just watching her in general, if you pay close enough attention, you gonna see what you should do. I love to talk to her about things that I can't talk about publicly – it just means so much to be able to have somebody like her.
"I'm just happy to be a part of such a big movement and to be able to contribute to the culture. I'm willing to try whatever, you know what I'm saying? I'm young – I'm gonna try everything."