Vicky McClure and Jonny Owen tie the knot
Bang Showbiz
12 August 2023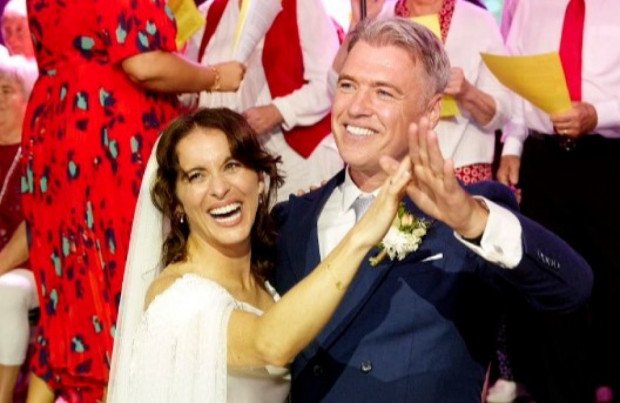 Vicky McClure has married film director Jonny Owen, over a decade after they first met
Vicky McClure has married film director Jonny Owen.
The 'Line of Duty' actress and her new husband announced the news on his daughter Katie Owen's BBC Wales show on Friday (11.08.23) after she had to leave the wedding early to work.
Vicky told Katie live on air: "We've had the most amazing special day and we're gutted you had to go back but we're so proud of you.
"You're missing lots of dancing but we can do that again."
Vicky, 40, and Jonny, 54, were joined by a host of celebrity guests at their wedding in Nottingham, including her 'Line of Duty' co-stars Martin Compston, Adrian Dunbar and Craig Parkinson.
Football manager Rob Page, Everton manager Sean Dyche and TV presenter Paddy McGuinness also attended.
Vicky posted pictures on Twitter and wrote: "Tied up in Notts!!! Best. Day. Ever!!!!! Xxxxxx."
Vicky and Jonny met while filming 'Svengali', a movie which Jonny wrote back in 2012, but she claimed to have fallen in love before they even met in person.
Welsh news site Nation Cymru reported her as saying on BBC Radio Wales: "When we first spoke it was on the phone. I came off the phone and I just knew.
"I've never loved anyone more than I've loved Jonny."
He added: "I remember we were walking down Southbank (in London) on a weekend break from filming and we were going to the Tate Modern and she turned to me and asked me if I fancied going to the pub instead.
"And I was like, well, yeah! I thought, 'What a girl'.
"I think we almost simultaneously both went, 'I fancy you!' It just tumbled from there and we haven't been apart since that moment.
"I was going through a divorce at the time and I'd been separated for seven or eight months. I think we went from 'I like you' in the pub to 'I love you' in about 10 seconds."