'Wow! It's OK to sound like that?' Radiohead's Thom Yorke credits Neil Young for inspiring signature vocals
Bang Showbiz
12 September 2023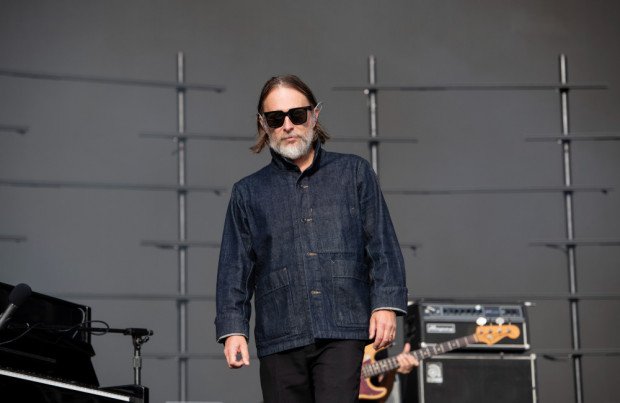 Radiohead singer Thom Yorke has revealed it was artists like Neil Young and Jeff Buckley who gave him the confidence to embrace his naturally high singing voice
Radiohead frontman Thom Yorke says Neil Young gave him the confidence to sing in his natural voice.
The 'No Surprises' singer possesses an incredible vocal range and is able to hit extremely high notes, something that has become his signature sound with his band.
But Thom was not always confident singing that way and it wasn't until he was compared to legendary singer/songwriter Young, 77, after sending a demo into a magazine aged 18 that he decided to embrace what he initially thought was an "uncomfortably high or awkward" register.
In an excerpt from Jason Thomas Gordon's upcoming book 'The Singers Talk', he recalls: "I went, 'Who's Neil Young?' I'd never even heard Neil Young, so I went out and bought 'After The Gold Rush' and was like, 'Wow! It's OK to sound like that?' Because he's slightly higher than me, but there was a softness and a naiveté in the voice which I was always trying to hide. Then, it was like, 'Oh, maybe I don't need to hide it.'"
Yorke also credits Jeff Buckley – who died in May 1997 aged 30 – as being another artist who allowed him to be comfortable with his voice and unique singing style.
He added: "When we were doing the second record ['The Bends'], I went to see Jeff Buckley before he died. Again, that was one of those, 'It's OK to do that?' And it reminded me of this vulnerable part of me that I was choosing to hide. I remember I recorded 'Fake Plastic Trees' on my own to begin with. Then, when we came together to listen to it, the others said, 'We'll use that!' and I was, 'No, no, we can't use that, it's too vulnerable. That's too much me.'"
Now Yorke is 54 he has to exercise and protect his voice by carrying out vocal warmups before shows with Radiohead and his side project The Smile and he also brings a chiropractor on tour to re-align his spine when his voice isn't working how he expects it too.
He said: "It's quite an amazing feeling when your voice just opens up like that. It's mental. But this is what happens when you're touring a lot, you have to have someone fix you up if you throw yourself around like I do."